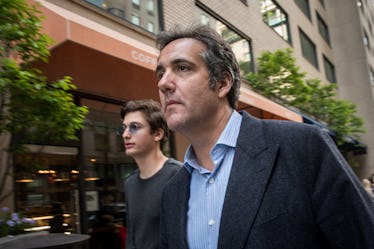 Trump Confirmed That He Made A Major Payment To Michael Cohen In An Official Document
Drew Angerer/Getty Images News/Getty Images
President Donald Trump reportedly paid his personal attorney, Michael Cohen, more than $100,000 in 2017, according to a report from The New York Times. Trump's financial disclosure form revealed a payment to Cohen as reimbursement for a payment made to a third party.
A portion of the document, released by the U.S. Office of Government Ethics (OGE) on Wednesday, May 16, indicated that the president paid Cohen between $100,000 and $250,000 in 2017 as "reimbursement" for expenses from 2016, and that such a payment needs to be reported. Trump and his current lawyer, former New York Mayor Rudy Giuliani, have offered conflicting accounts of a payment reported to have been made to silence adult film actress Stormy Daniels, who claimed she had an affair with Trump. (Trump has denied this claim.)
Giuliani revealed on Hannity on May 2 that Trump reimbursed Cohen for the alleged "hush money," and that it was a personal matter, not a campaign matter, and therefore didn't need to be reported on financial disclosure forms. That contradicted Trump's previous denials that he had any knowledge of the payment.
According to the Federal Election Commission (FEC), the agency that regulates and enforces campaign finance law, using funds for campaign purposes counts as a "campaign contribution," and must be reported. Paying Daniels, whose birth name is Stephanie Clifford, to keep quiet might be considered a campaign purpose — and therefore a "campaign contribution" — since it was done near Election Day and arguably protected the Trump campaign from bad publicity at the time.
Acting Director of the Office of Government Ethics, David J. Apol, addressed a memo to the Justice Department Wednesday indicating that the payment "is required to be reported as a liability."
Apol wrote,
OGE has determined that the information provided in that note meets the disclosure requirements for a reportable liability under the Ethics in Government Act. I am providing both reports to you because you may find the disclosure relevant to any inquiry you may be pursuing regarding the President's prior report that was signed on June 14, 2017.
The report does not indicate the exact amount of the payment to Cohen, but prior reportage has indicated that Daniels was allegedly paid $130,000 to remain silent about claims of an affair. The Times reported that Giuliani had said previously that Cohen was paid more than $450,000 by Trump last year, which included money for "incidental expenses."
Though the report does not provide much specific information, per The Times, it does indicate that Trump's Washington hotel is booming. The report listed the hotel's revenues of about $40.4 million, per The Times. The hotel is also the focus of more than one emoluments lawsuit regarding Trump's business conflicts of interest, since the hotel has reportedly been a fixture for many foreign diplomats, lobbyists, and Republican aides.
The Times report also noted that The Trump Organization's Mar-a-Lago resort in Florida, which has been called Trump's Winter White House, saw revenues of about $25.1 million.
Walter Shaub, the former director of the OGE, said Apol's memo was "tantamount to a criminal referral," in a tweet. He noted that if there were other payments to other women — as Giuliani suggested there could be — that those payments would also need to be reported. Shaub said in a subsequent tweet,
What if there were other payments to women but Trump, who concealed the Stormy Daniels debt, didn't disclose them because he didn't reimburse them? If any such payments were made in 2017t, they were both gifts and income that should've been reported in this year's disclosure.
Naturally, because the world we live in is ridiculous as of late, the financial disclosure news broke as another story about Trump's potential legal headaches broke simultaneously. The Washington Post reported that the Senate Judiciary Committee released 2,500 pages of congressional testimony Wednesday, May 16, which included new insights into the June 2016 Trump Tower meeting between Donald Trump Jr., a Kremlin-connected lawyer, and others.
Yeah, and it's only Wednesday. The news is sure to take a few more interesting turns before the week is out. As Ms. Clifford herself said on SNL two weeks ago, "a storm's a-comin', baby."