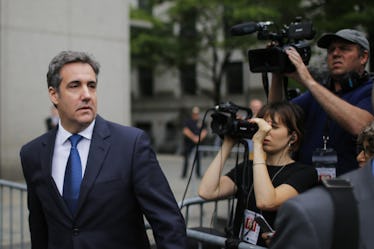 This Leaked Recording Of Michael Cohen Shows His Reported Legal Threats To A Journalist
Eduardo Munoz Alvarez/Getty Images News/Getty Images
Michael Cohen, a longtime personal lawyer of President Donald Trump, grew a reputation over the years for reportedly threatening journalists with lawsuits. According to reports, those reported threats were used to discouraging the publication of stories that could reflect negatively on Trump. Now, a leaked audio recording of Michael Cohen reveals how those reported threats are made.
The recording was released by NPR on Thursday, May 31. On the audio, Cohen can seemingly be heard saying,
Mark my words for it, I will make sure that you and I meet one day over in the courthouse and I will take you for every penny you still don't have, and I will come after your Daily Beast and everybody else that you possibly know. Do not even think about going where I know you're planning on going. And that's my warning for the day.
Elite Daily reached out to a representative of Cohen's for comment on the leaked audio but did not hear back at the time of publication.
According to NPR's Tim Mak, the recording reflects a 2015 interview between himself and Cohen. At the time of the interview, Mak was reporting for his previous employer, The Daily Beast, which published a story in July of that year about a rape allegation against Trump made by ex-wife Ivana Trump in 1989. The allegation is detailed in the 1993 biography of Donald Trump, titled Lost Tycoon: The Many Lives of Donald J. Trump, written by formerNewsweek reporter Harry Hurt III.
During a deposition for divorce case following the breakdown of her and Donald's marriage, Ivana used the word "rape" to describe a sexual encounter with her ex-husband. In 1993, before the book was published, Ivana walked back the characterization in a statement. "During a deposition given by me in connection with my matrimonial case, I stated that my husband had raped me ... As a woman, I felt violated, as the love and tenderness, which he normally exhibited towards me, was absent. I referred to this as a 'rape,' but I do not want my words to be interpreted in a literal or criminal sense," the statement read, according to The Daily Beast.
Still, Cohen reportedly sought to discourage The Daily Beast from publishing the details of the book.
On the recently released audio, Cohen can seemingly be heard saying, "So I'm warning you, tread very f*cking lightly because what I'm going to do to you is going to be f*cking disgusting. Do you understand me? Don't think you can hide behind your pen because it's not going to happen. I'm more than happy to discuss it with your attorney and with your legal counsel because motherf*cker you're going to need it."
The released audio brings Cohen's reported reputation to life. The attorney has long been known as Trump's "fixer," but it had never been clear how exactly Cohen went about that "fixing."
The Daily Beast published the story anyway, of course. After its publication, Ivana Trump sought to quell an controversy that the piece might spark.
"I have recently read some comments attributed to me from nearly 30 years ago at a time of very high tension during my divorce from Donald," Ivana said in a statement in July 2015. "The story is totally without merit. Donald and I are the best of friends and together have raised 3 children that we love and are very proud of."
Cohen, meanwhile, never launched a suit against The Daily Beast. Instead, Cohen ended up going on the defensive in the press, having attracted negative attention for reportedly telling Mak during the interview, "understand that by the very definition, you can't rape your spouse."
Marital rape became a crime in New York in 1984. Ivana Trump has said in the past that the sexual encounter in question took place in 1989.
The attorney would later apologize publicly. "In my moment of shock and anger, I made an inarticulate comment — which I do not believe — and which I apologize for entirely," Cohen said in a statement, per CNN.
Now, three years later, the reported audio that captured that moment of shock has been released, and it claims to reveal how Cohen tried to intimidate at least one of the reports he's had a reputation for reportedly threatening.