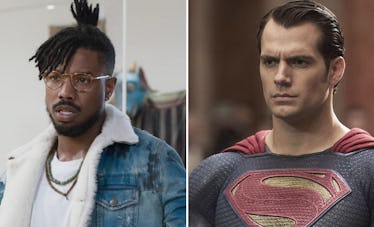 DC Is Reportedly Considering Replacing Henry Cavill With Michael B. Jordan For Superman
Marvel, DC
Henry Cavill may be out as Superman, but DC Films already has its eye on another proven superhero actor to step into the iconic blue and red spandex suit... and it is someone that fans probably did not expect. According to Deadline, Warner Bros. is tossing around the idea of replacing Henry Cavill with Michael B. Jordan in future movies. So, will Michael B. Jordan play Superman? Let's break down everything that is going on with this surprising news.
On Wednesday morning, the news broke that Henry Cavill will likely no longer appear as Superman in any of the DC Entertainment Universe superhero movies. A report from the Hollywood Reporter cited insiders at Warner Bros. confirming that a deal for Cavill to cameo as Superman in their upcoming movie Shazam! recently fell through due to scheduling conflicts, and now it does not appear likely that Cavill will ever play the Man of Steel for DC ever again. Right now, none of DC Films' future projects need to include Superman, save for an upcoming Supergirl movie, but since that character's origin story begins when Kal-El/Clark Kent is just an infant, Cavill would never have appeared in the movie anyway.
And with Superman taking a temporary hiatus, Warner Bros. apparently already has someone else in mind to replace Cavill when the Man of Steel makes an eventual big-screen comeback: Michael B. Jordan. Apparently, the studio is considering going in a completely different direction with its next Superman casting, which Jordan's casting would definitely fulfill. Plus, Jordan has already proven his superhero chops in both Fantastic Four and Black Panther, and he packed on some Superman-sized muscles in training for Creed and Creed II (both of which are distributed by Warner Bros.).
Don't expect to see Michael B. Jordan flying around in a red cape anytime soon, though. The Henry Cavill news is still super recent, so this casting replacement is just a wishful thought that DC's execs have right now. It sounds like Superman will not be appearing in the next several DC movies anyway, so there will be a lot of time before Cavill's replacement is finally chosen.
This marks the second major DC Entertainment Universe recasting rumor of the past few months. There has also been a lot of talk about Ben Affleck ending his stint as Batman in the film franchise. Reportedly, director Matt Reeves is recasting the iconic superhero for his upcoming movie The Batman, which is set to begin filming next spring. The rumor is that Reeves is eyeing Game of Thrones star Kit Harington to take Affleck's place as the Caped Crusader.
That means that the DC Universe is out both of its two most iconic superheroes at the moment. Luckily, the studio is not focused on any Batman or Superman projects right now: next up is Aquaman, then Zachary Levi's introduction as Shazam in Shazam!, then Gal Gadot's Wonder Woman sequel, standalone films for both Cyborg and The Flash, an introduction for the not-yet-cast Green Lantern in Green Lantern Corps, and a Suicide Squad spinoff focused on Harley Quinn tentatively titled Birds of Prey.
So we have a while before Superman and Batman fly back into the DC movie universe, but get ready for them to have a different look when they do return.