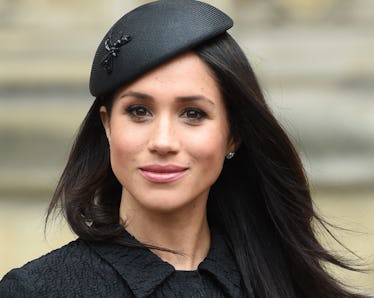 Meghan Markle Will Apparently Make This Big Change After The Royal Wedding
WPA Pool/Getty Images Entertainment/Getty Images
Kensington Palace is about to have an American member of the royal family, and I, for one, cannot wait. Meghan Markle and Prince Harry will soon tie the knot, in what I can only assume will be a glorious fairytale wedding. We know Markle will be royalty come May 19, but will Meghan Markle become a U.K. citizen also? Because how does that all work, right?
So the process is a little twofold. On the one side, there are immigration policies and requirements, and the other is actually becoming a citizen of the United Kingdom. Jason Knauf, Prince Harry's communication secretary, said that Markle would be "compliant with immigration requirements at all times," according to BBC News.
But what about becoming an actual citizen? Well, Knauf confirmed that Markle is planning on becoming a citizen of the United Kingdom, but the process takes a long time. He said,
I can also say she intends to become a U.K. citizen and will go through the process of that, which some of you may know takes a number of years.
Basically, marrying a prince allows you to stay in the country, but you don't automatically become a citizen.
According to BBC News, Markle can apply for citizenship if she hasn't spent more than 270 days outside of the U.K. in the past three years. I would guess that since Markle is an American actress who until recently lived in Toronto (I am a huge fan of Rachel on Suits and I will miss her dearly), she's been on this side of the pond more than 270 days in the past three years. So she might have to wait a bit before applying for that citizenship.
After that, Markle will have to take a citizenship test that will include questions like "Who is married to the Queen of England?" Something tells me she'll nail that part.
And you thought snagging Prince Charming would be the hard part?
The good news is that if Markle becomes a U.K. citizen she won't have to give up her U.S. citizenship— British law allows you to have dual citizenship, which means you can be a U.K. citizen while retaining citizenship in another country. So, Markle might stay ours forever, even after she's off being royalty in Britain.
Markle and Prince Harry will walk down the aisle on May 19. The service will begin at St. George's Chapel at Windsor Castle, and then continue with a carriage procession through Windsor town, according to Us Weekly.
But as May 19 inches closer, what you're all really dying to know is if you will be able to watch the festivities as they unfold? Prepare to get excited because the answer is yes you will!
NBC's Today show will be covering all the royal festivities. Starting at 4:30 a.m. ET on NBC, Savannah Guthrie and Hoda Kotb with be on the scene from "an exclusive vantage point overlooking Windsor Castle," according to Town & Country. Why so secret NBC? We need all the deets!
But don't worry, you don't have to wait all the way until the wedding day for some royal coverage. Kotb and Guthrie will also host a primetime special called Inside the Royal Wedding: Harry and Meghan. That will air May 16 at 10 p.m. ET. That will give viewers an inside look into the royal couple. NBC even shared that Inside the Royal Wedding will really take a deep-dive into Markle and Prince Harry's journey till now and even talk about the people that have inspired them, according to The Hollywood Reporter. NBC stated,
Filmed in Europe, Africa and the U.S., the special will also feature the people who have inspired the pair on their global charity-focused journey, from the motivational stories of Harry's fellow soldiers injured overseas, to the role models and mentors who have influenced Meghan's passions and interests.
Man oh man, that royal wedding cannot come soon enough. Sure, I'll be jealous during every second of coverage, but at least once it's over I can go back to normal life. I'll finally have some time to find a prince of my own, or at least figure out what's my favorite flavor of LaCroix.