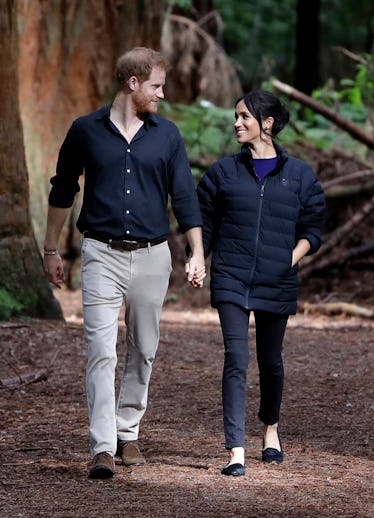 Prince Charles Revealed Meghan & Harry's Future Baby May Share A Name With A Jenner Sister
Pool/Getty Images Entertainment/Getty Images
The Duke and Duchess of Sussex — who are expecting their first child in the spring — recently returned from their 16-day royal tour of Australia, Fiji, Tonga, and New Zealand. During one of their last stops at New Zealand's National Kiwi Hatchery, the pair got to practice their baby-naming skills on a couple of newborn chicks. They chose the names Koha, meaning gift, and Tihei, a Maori saying meaning "the sneeze of life." And I gotta say, I love both of these names so much. They're just so edgy and unusual, you know? But are either of these monikers on Meghan and Harry's baby name shortlist? Probably not, but another iconic name apparently is, according to Prince Charles! The question now is, will Harry and Meghan name their baby Kylie?
During a visit to the Australia House in London on Nov. 22, the Prince of Wales — who will become a grandfather for the fourth time once Prince Harry and Meghan Markle's baby is born — joked about what the royal couple's baby name will be. And one of his suggestions is giving me all the Kardashian vibes.
"Incidentally, ladies and gentlemen, my son Harry tells me that during their recent tour of Australia, he and his wife were offered countless thoughtful suggestions for the naming of their forthcoming baby," Prince Charles reportedly told the crowd. "Just between us, I suspect that Kylie and Shane may possibly make the short list."
Sadly, Prince Charles was probably not referring to reality star Kylie Jenner, but to Australian singer Kylie Minogue. You know, unless he turns out to be a closeted Keeping Up With The Kardashians fan or something, which, TBH, would really not surprise me at all.
Either way, I am seriously loving the name Kylie for Meghan and Harry's baby. Of course, 1) Prince Charles was most likely joking and 2) we don't even know if the new addition is going to be a little boy or a little girl yet. We can, however, probably take Prince Charles' word for it when it comes to the name suggestions that definitely will not make the cut. "I would not hold your breath for Edna or Les," the royal added.
We do know that Prince Harry and Meghan Markle have a pretty cool nickname picked out for the future royal.
See, on Oct. 29, Prince Harry was addressing the crowd at the Abel Tasman National Park in New Zealand. And while the rain fell loudly behind him, he told the crowd how glad he was to be on tour, and how the inclement weather was actually a blessing. And it was during this little speech that he let the pet name for the couple's little bundle of joy slip.
"From myself and my wife and... our little bump," he said. "We are so grateful to be here."
Honestly, he is going to make the best father!
Meanwhile, according to an official statement from the Palace, as they get ready to welcome their baby to the royal fam, the Duke and Duchess of Sussex will be moving out of their two-bedroom digs on the grounds of the Palace, and into the 10-bedroom Frogmore Cottage on the Windsor Estate.
Ten bedrooms? Sounds like a home fit for a royal to me. Or, for that matter, for a Kardashian.
They don't call her King Kylie for nothing, you know!