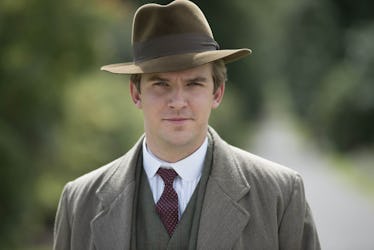 Dan Stevens Revealed Whether Matthew Crawley Will Return For The 'Downton Abbey' Movie
PBS / ITV
Downton Abbey was never one for reminiscing too much about past characters. If a new servant or a mysterious family member didn't sit well with the Crawleys, they were usually out the door in the next episode and never to be mentioned again. For the upcoming Downton Abbey film, creator and writer Julian Fellowes might change his tendency to keep moving forward in order to revisit a beloved character. Original cast member Dan Stevens is teasing the return of his deceased character, so will Matthew Crawley be in the Downton Abbey movie?
When the Downton Abbey movie was officially announced in July, fans delighted in the project's openness about the original cast returning. Many of the actors took to social media to celebrate the news, but longtime viewers also figured that if a character died in the series, which ran in the U.S. from 2011 to 2016, they weren't meant to appear in the film. In the Season 3 Christmas special, Stevens' Matthew Crawley died in a car crash immediately after the birth of his son, ending U.K. viewers' actual Christmas Day with a heartbreaking view of his lifeless body. And a Happy New Year to you, too! Although Matthew's widow Mary returned to her old ice queen persona for quite some time after his death, she ended the series on a happy note and married motorist Henry Talbot.
Rising silver screen icon Lily James, who played Crawley cousin Rose, has already announced that she won't be in the film, and while Stevens hasn't outwardly spoken about whether he's involved, he dropped a major hint on social media. Having a reunion with Downton leading lady Michelle Dockery and co-star Allen Leech, aka Branson the chauffeur-turned-Crawley brother-in-law, Stevens posted a photo of the group and wrote, "Should Matthew have a mustache for the #DowntonAbbeyMovie...? Vote below..."
The photo's comments section is littered with speculation about whether Stevens will appear in the movie and the inevitable reminders that some fans still haven't forgiven him for his departure from the show. After all, Downton Abbey's third season was an emotional doozy, as Mary's sister Sybil died from complications in childbirth soon before Matthew met his fate in the automobile incident. The exits of such prominent people led to a everchanging roster of new characters in following seasons, but at the end of the day, fans just missed Mary and Matthew finally living out their happily ever after together.
Logistically, Fellowes probably won't drop the bombshell in the film that Matthew faked his own death and has been living in the Yorkshire woods this entire time. The character could always appear in flashbacks, a method the original series never used, but if there's a long-ago moment between Mary and Matthew that wouldn't just recycle old Downton footage, I wouldn't be opposed to Stevens giving Matthew's old bike another whirl through Downton.
Although he hasn't revealed any details about the movie's plot, Fellowes did wonder about the future of the Crawley family in August 2016, telling Deadline:
My own belief is that Mary, whether you like her or dislike her, is a hard worker, and she's practical. I think she will employ the kind of advice that she needs. She would probably have opened the house to the public in the 1960s, as so many of them did, and she'd have retreated to a wing, and maybe only occupied the whole house during the winters. My own belief is the Crawleys would still be there...George [Mary's son] would have gone to the Second World War, and of course the fear is that he would be killed. We know that Mary is pregnant, so there's going to be another child.
Whether or not we see new footage of Stevens as Matthew in the Downton Abbey movie, we can always imagine what a modern-day Downton Abbey story would look like thanks to Stevens' group photo.