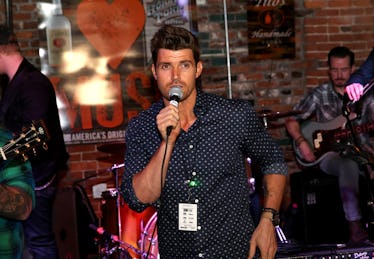 This Fan Favorite Is Officially Competing In The 'Bachelor Winter Games,' According To Show Creator
Terry Wyatt/Getty Images Entertainment/Getty Images
Bachelor Nation has a lot to look forward to. The Bachelor Winter Games is the latest spinoff to emerge from the storied dating competition franchise and we're learning more info about the upcoming series slowly but surely. Casting news is just starting to roll in via social media from Twitter-happy producer, Mike Fleiss. Will Luke Pell be on The Bachelor Winter Games? If Fleiss' tweet is to believed, then expect to see the Bachelorette alum/country singer on your screens come wintertime.
You may remember Pell from his days on Season 12 of The Bachelorette, where he competed for the affections of leading lady JoJo Fletcher. Pell was a fan fave who was sent packing in an emotional goodbye following those crucial hometown dates. The Texas native and war vet stole the hearts of America after his reality TV stint and rumors have swirled in the past about the possibility of him taking on the role of the Bachelor at some point. Well, that didn't pan out. Yet. He's supposedly set to take his talents to Vermont for The Bachelor Winter Games. Will he find athletic glory and romance in the near future? Only time will tell. Mike Fleiss, you better not be trolling us, sir.
The news regarding Pell comes on the heels of Fleiss' early October announcement that Peter Kraus, runner-up from Rachel Lindsay's Bachelorette season, would be joining The Bachelor Winter Games cast. Naturally, #TeamPeter members everywhere rejoiced. But now the veracity of that intel is in question. According to People, Kraus hasn't exactly signed on the dotted line. "Mike Fleiss likes to tweet a lot of things," Peter told the magazine. "I feel like he even said I was the Bachelor at one point, so I think he just likes to throw people off." Um, you're telling us Twitter isn't always a reliable representation of the truth? OK, fair. Kraus went on,
It's definitely something I've been interested in — it looks like a blast, and I know some of my good friends are going onto it. I won't say who, because I don't know if they've been announced either, but it looks like a really good time.
It does look like a good time, Peter. And you're an adorable and charming personal trainer. The Winter Games are your oyster.
Maybe Peter will come around... And hopefully the Luke Pell casting news is legit. Pell has made quite the name for himself not only as a reality personality, but through a burgeoning career as a country artist. The singer/songwriter has been touring and promoting his music and he doesn't seem to be slowing down any time soon. But maybe he'll make time for a reality TV return when Winter Games starts shooting.
We wouldn't be surprised if Luke was on producer wish lists. According to the man himself, he was originally supposed to be The Bachelor in 2016, before Nick Viall was swapped in at the last minute. He told Us Weekly last year,
I was checked in to my flight to come to L.A. I got a call from producers Sunday night at about 10 p.m. They said ABC had decided to quote-unquote go in a different direction. I was supposed to fly out Monday morning at 9 a.m. I had my bags packed and everything. Most dramatic Monday ever!
Pell's name was also thrown around when fans speculated about who might step into the Bachelor's dress shoes for Season 22, but alas, that title went to a one Mr. Arie Luyendyk, Jr.
We'll have to wait for official word to find out who's actually going to be weathering the New England winter for a chance at love with The Bachelor Winter Games. In the meantime, there's always Twitter to keep us guessing.