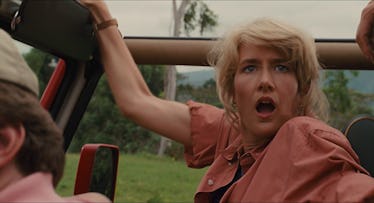 Laura Dern May Be In A 'Jurassic World' Movie & Fans Are Freaking Out
Universal
Give the people what they want. And what they want is reboots of beloved classics to feature the characters (and the actors who played them) from the original films that made them possible. Like Laura Dern's iconic Dr. Ellie Sattler, the witty khaki-clad paleobotanist lead from 1993's Jurassic Park. So, will Laura Dern be in a Jurassic World movie? If we've learned anything from Jeff Goldblum's know-it-all Dr. Ian Malcolm, it's that "life finds a way" — but fans want to know if Laura will find her way to one of the recent sequels.
"I can't divulge anything," actor Jeff Goldblum revealed on Monday's Watch What Happens Live, when asked about his former co-star's future involvement in the franchise. "But maybe, maybe, maybe she will." Allow him to elaborate:
Jurassic World is a trilogy. Colin Trevorrow directed and wrote the first one, he directed that Jeep commercial I did at the Super Bowl of me playing the character, he wrote this one, that J.A. Bayona directed in which I play... I have a scene in front of the senatorial committee talking about dinosaurs. And then there's gonna be another one, which... some people may or may not be in.
Some people? It sure sounds like that Dern could be one of them. There have also been rumors of Sam Neill reprising Alan Grant at some point. Laura has teased the return of her character in the past. "[It] could be fun. I mean, I love Ellie Sattler. She's a tough feminist, come on! We need her back," Laura remarked about the possibility of appearing in this coming June's Jurassic World: Fallen Kingdom. Laura did not play a part in 2015's Jurassic World. The last time audiences got a glimpse of Ellie was in 2001's Jurassic Park III.
Laura Dern has kept plenty busy since her days running away from raptors. In fact, it feels like the Oscar-nominated actress has been more buzzed-about than ever thanks to some impressive recent projects. The frequent David Lynch collaborator appeared in last year's Twin Peaks revival. She also had a part in one of the biggest movies of 2017 — Star Wars: The Last Jedi. And let us not forget her standout performance as Renata in HBO's critical and audience darling, Big Little Lies. Dern picked up an Emmy and Golden Globe for the role and will be returning for the show's second season. *squeal*
The third installment of the Jurassic World trilogy is slated for a 2021 release. Writer Colin Trevorrow always had a three-parter in mind, so it makes sense that viewers could be reunited with familiar faces along the updated journey. If Goldblum's down, fingers crossed that others follow suit. Trevorrow has outlined his vision for the franchise, explaining,
I remember telling Steven [Spielberg] even while we were making the first movie. 'This is the beginning. Here is the middle. And here's the end of the end.' This is where we want to go. I feel like that kind of design is crucial to a franchise like this if you really want to bring people along with you and make sure they stay interested. It needs to be thought through on that level. It can't be arbitrary, especially if we want to turn this into a character-based franchise with people who you lean in to follow what they're going to do.
I'm not asking for John Hammond to be raised from the dead or for Samuel L. Jackson to miraculously appear and utter "hold on to your butts" for a second time, but here's hoping the impending Jurassic World sequel delivers at least a cameo from Dern and other actors whose characters survived prior dino destruction.