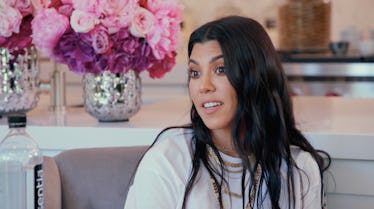 Scott Disick Admitted He Wants Another Kid With Kourtney & Her Reaction Is Everything
Scott Disick wants a fourth baby with Kourtney Kardashian, guys. If you're confused about this considering the fact that he's dating Sofia Richie, we are too. Let's all be confused together. In Sunday's episode of Keeping Up With The Kardashians, Disick revealed he would totally have a fourth child with Kourtney Kardashian if that's what she wanted. But will Kourtney Kardashian have another baby? Almost all of her sisters (except for Kendall Jenner) are reportedly expecting babies right now, so it's only natural to wonder if she's caught onto this Kardashian/Jenner baby fever. But even if she does want another baby one day, it doesn't seem like she wants to have one with Disick. Yikes.
In a clip from the episode, Khloé Kardashian's best friend, Malika Haqq, is sitting at a table with Khloé, Kourtney, and Scott. She asks Disick, "Would you guys have a fourth kid?" Disick (very unemotionally) responds, "Yeah." Haqq, a little shocked, says, "You would?" And Disick responds (unemotionally, again), "M'hm." I guess he seems, excited? How does Sofia Richie feel about this? Color me confused. Then Haqq asks if he means he would essentially be a sperm donor for Kardashian if she wanted a fourth child, or if he would, you know, want to be ~more involved~ in the process. She asks, "Wait, would you donate or is this like a strict you gotta lay it down?" And Disick comes back with, "Whatever she wants but probably just do it like artificially just so it's like not weird."
Khloé looks a little surprised to hear Disick would be willing to have a fourth kiddo with his ex (they already have three kids together). Haqq says to Kourtney, "Did you know that?" And Kourtney responds, "What? That he would? Yes, I know that he would." Just to make things clear, the conversation didn't mention anything about Khloé Kardashian and Kylie Jenner's reported pregnancies. The group was solely talking about the possibility of Kourtney wanting more kids, so Haqq was asking if Kourtney would want Disick to be the father of the fourth one since they already have three together. And it doesn't seem like she's interested in that prospect, seeing as she added, "But he has a disrespectful nature these days. To yourself, to me, to your children."
Disick admits that his and Kourtney's relationship is much different than it used to be and that their current dynamic is very rocky, to say the least. Still, he said,
I definitely think that Kourtney's got a lot of built-up anger towards me, but at the end of the day, we have three kids together. That's not going to change. My biggest focus now is learning how to really, legitimately move on and think about doing a lot more with my kids without Kourtney. It's kind of nice in some sense that there's no more false hope. It's just another transition in a very weird part of being together and not being together.
Kourtney responds to all of this by saying, "I think in that case I'd rather just not have another one." Yeah... I don't think a fourth baby is in the cards for Kardashian and Disick right now. And given the fact that they both are in relationships with different people, I found this whole conversation hella awkward. Maybe they weren't dating these people when they filmed this episode, but still. Weird.
In a trailer for the upcoming episode of Keeping Up With The Kardashians, Disick and Kardashian get into another disagreement over the time they do and don't spend together. Kardashian has made it clear in other episodes from this season that she doesn't feel obligated to spend a lot of time with her ex and make sure he still feels included in the family (she isn't). Disick seems to disagree, seeing as he's talked to Kris Jenner in previous episodes about how jealous he is that Kardashian gets to go on vacations with her friends while he's home alone and sad. In the clip, Kardashian says to her ex, "You think you can hurt me and still get invited to everything." And Disick responds, "It's funny how fake you really are." Oh man, the tension between these two doesn't look like it will fade anytime soon.