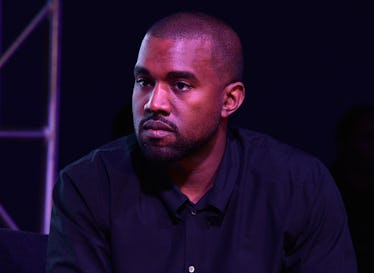 Fans All Have One Question For Kanye West After Releasing His New Album 'Ye'
Frazer Harrison/Getty Images for Surface Magazine
Hear ye, hear ye, I come bearing some pretty awesome news: Kanye West's highly anticipated new album, Ye, was released after West live-streamed the whole thing during a listening party on the WAV app at midnight on Friday, June 1, in Jackson Hole Wyoming. Apparently, some hand-picked celebs were there alongside Mr. West as he unveiled his new music, and I honestly could not be more jealous. After hearing all of his new music, many fans are wondering: Will Kanye West tour in 2018? While we don't know anything concrete, we're hoping that we hear something from the rapper soon.
The album features seven tracks that address a ton of things going on in Kanye West's personal life. According to People, West "addressed everything from his mental health and drug addiction to Tristan Thompson's cheating rumors and wife Kim Kardashian West's reaction to his infamous declaration that slavery was a choice." He even calls out popular figures like Stormy Daniels, Kris Jenner's boyfriend Corey Gamble, and Russell Simmons.
According to the site, West also notes his personal difficulties with drug addiction and his mental health, and in his song, "Yikes," West confirms that he is bipolar, penning the lyrics:
That's my bipolar sh*t, n**** what? That's my superpower, n**** ain't no disability, I'm a superhero! I'm a superhero!
Whether you're totally feeling all of these new intense songs from Yeezy or not, we all know at least one thing:
Because nobody loves Kanye more than Kanye.
If you're a fan, you can stream Kanye West's new album on Spotify below:
West's last album, Saint Pablo, was released on February 14, 2016, and West's Saint Pablo Tour began on August 25, 2016. That means if West was going to start a touring pattern, we might expect to see him on tour as early as December 2018. But again, neither West's team or Yeezy himself have announced any tour dates (or if there will be a tour at all), so we can't put too much stock in that theory.
But after his Saint Pablo Tour was cut short, perhaps West will come back bigger and better than ever with a tour for this new album.
Considering West has held nothing back with his new music, I have a feeling we're going to be hearing a TON of controversial opinions about all of the tracks on Ye. I mean, leisurely name-dropping someone in your songs is expected, but calling out the father of your sister-in-law's daughter *might* have people thinking that West took things a bit too far.
On the track "All Mine," Yeezy sings:
All these THOTS on Christian Mingle, Almost what got Tristan single, If you don't ball like him or Kobe, Guarantee that b*tch gonna leave you
Oof.
Of course, West is talking about the reported cheating scandal that Tristan Thompson was involved in during Khloé Kardashian's pregnancy. The Daily Mail and TMZ released videos on April 10 reportedly showing Thompson kissing another woman and footage of Thompson seemingly hanging out with multiple women while getting too close for comfort. Elite Daily reached out to Kardashian and Thompson's teams for comment on the cheating reports at the time, but did not hear back by the time of publication.
Oh, and remember when I said that a handful of famous faces were chosen to come and listen to the new album with West? According to People, those names include the likes of Pusha T, Jonah Hill, and Big Sean. Comedian Chris Rock was even there to introduce the rapper. The site reports that Rock announced the album as well, saying, "Welcome to the world premiere of the latest opus from the one and only Kanye West entitled Ye... Listen without prejudice."
If this album is making you hungry for even more music from 'Ye, just remember that he and Kid Cudi reportedly have a collaboration coming out on June 8 called Kids See Ghost. So hang tight, everybody. More Kanye is on the way.