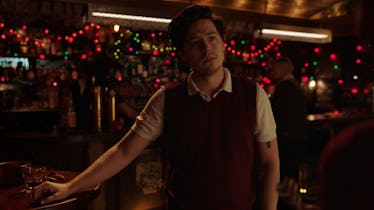 Fans Are Convinced This New 'Riverdale' Character Is Jughead's Next Love Interest
The CW
Life for Riverdale's Core Four looks super different after the show's seven-year time jump, especially in terms of their relationships. For the first four seasons of the show, Varchie and Bughead, respectively, definitely seemed like they would be endgame. But since they came back to the "Town with Pep" as adults, the doors are wide open for new romances. One of those potential relationships could unfold in good ol' Pop's Diner, because many Riverdale fans are hoping Jughead and Tabitha Tate will get together.
Warning: Spoilers for Riverdale Season 5, Episode 5 follow. Jug was in bad shape in Episode 5, hiding out from debt collectors and struggling to come up with his next novel. He found himself drawn back to his old favorite writing spot in a Pop's booth, where he prepared a heartfelt speech for Pop's retirement party.
That's when Tabitha, Pop Tate's granddaughter who now runs the joint, ultimately took pity on Jughead, letting him hide behind the Pop's counter from the debt collectors and giving him a job there as a waiter. Her family's legacy also helped him secure his next writing gig, since Jug's retirement party speech somehow landed him his next book (about dying small towns, of course).
So, now that Jughead is spending way more time with Tabitha, could things between them turn into romance? They have undeniable chemistry, and unless Tabitha is hiding a secret boyfriend viewers haven't met yet, they're both single. Plus, Jughead's ex-girlfriend Betty is currently hooking up with Archie, making a Jughead/Tabitha (Jugitha? Tabhead?) romance feel even more possible.
Also, the Season 5, Episode 6 promo shows Tabitha helping Jughead out with his writing, so maybe they'll end up being Riverdale's resident literary power couple. And Pop's Diner has always been a home for Jughead, giving him refuge from years worth of Serpent drama and murder mysteries. Who knows? Maybe it's all been leading to him and Tabitha becoming endgame.
To see whether this new pairing really does happen, you can tune into Season 5 of Riverdale on Wednesdays at 8 p.m. ET on The CW.