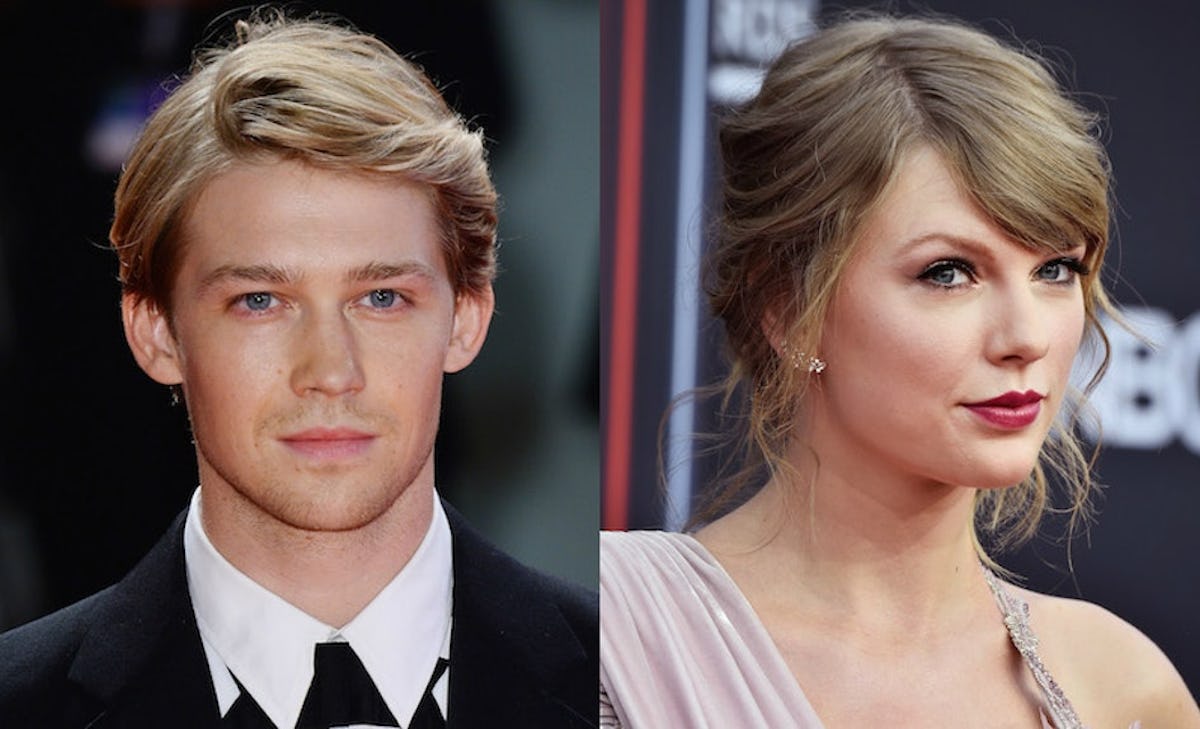 Here Are The Chances Joe Alwyn Will Be At The AMAs This Year With Taylor Swift
EAMONN M. MCCORMACK/FRAZER HARRISON/GETTY IMAGES
Taylor Swift is notoriously private about her relationships, and her current boyfriend Joe Alwyn is even more fiercely private. And that has Swifties wondering one thing: Will Joe Alwyn be at the 2018 AMAs? Well, the official American Music Awards seating cards have been revealed and it looks like Swift might be bringing a guest. So, Alwyn might just make an appearance at the show, but don't hold your breath.
While Alwyn very rarely makes appearances with Swift, the AMAs seating cards reveal that there's enough room for him to be there. In an official photo posted to Twitter on Sunday, Oct. 7, the AMAs revealed that Swift will be sitting between Alex Rodriguez and an empty seat. And that empty seat could very well be reserved for Alwyn. But don't jump to conclusions just yet! Camila Cabello will be sitting on the other side of the empty seat, so it could reserved for her guest rather than for Swift's.
I guess everyone will just have to wait and see if Alwyn actually does show up to the awards show. If Alwyn's track record is any indication, he probably won't accompany Swift to the 2018 AMAs. The two stars are so very private about their relationship that they haven't even been officially photographed together. So, they've never walked a red carpet or attended an awards ceremony together. If Alwyn does attend the AMAs, it'll be the first time they've made a concerted effort to appear together in public and in front of cameras.
Here's the seating card photo that was posted by the AMAs:
The 2018 AMAs would be an unfortunate event for Alwyn to miss, since Swift is slated to open the show with what will likely be an incredible performance. Swift will open the show with "I Did Something Bad" from her Reputation album. So, it's a big night for her. But even if Alwyn isn't front row and center, I'm sure he'll be watching the show from somewhere else.
In any case, Swift is nominated for several awards this year. Her nominations include: Artist of the Year, Tour of the Year, Favorite Female Artist - Pop/Rock, and Favorite Album - Pop/Rock. Given how successful Swift's tour and album have been this year, it's safe to say Swift will walk away with at least one of those awards.
And if Alwyn is there by Swift's side, it'll likely be a moment Swift and her fans won't forget! I'm sure the fans have been waiting to see Swift and Alwyn make their relationship red carpet official. Not that they need to.
Swift and Alwyn have been dating since May 2017 and they're still going strong. And it seems like they're totally dedicated to keeping it that way, hence their need for privacy.
Whether Alwyn shows up to the AMAs or not, it's doubtful that anything in the relationship will change. The two stars seem to support each other's professional successes from afar to ensure their relationship doesn't get dragged into the tabloids. Gotta respect them for that!