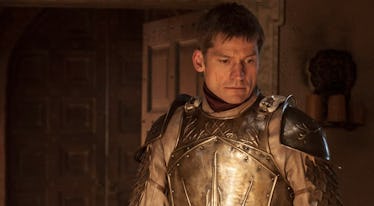 Nikolaj Coster-Waldau Just Wants Jaime To "Make It To The End" Of 'GOT' Season 8
HBO
For a series that has been defined by crazy, unpredictable character deaths, it makes sense that the final season of Game of Thrones would be the most intense yet. As the destructive White Walker army (now complete with their very own ice-dragon) descend on Westeros, we are pretty much guaranteed a bloodbath in the final six episodes of the high-fantasy saga. So who will live to see the very last moment of Game of Thrones and who will die in the last, epic battle? Jaime Lannister is one big question mark, but Nikolaj Coster-Waldau talked about the question of will Jaime die in GoT Season 8 during a recent interview with Entertainment Tonight.
As Nikolaj Coster-Waldau pointed out, Jaime Lannister has had one of the most transformative character arcs of all the characters in Game of Thrones — starting out as an arrogant, kill-happy soldier ("he was a bit of a douche," Coster-Waldau admits), but gaining empathy and humility after losing his hand and striking up an unlikely friendship with his enemy, Brienne of Tarth. That transformation reached its pinnacle in the Season 7 finale of Game of Thrones, when Jaime chose to turn his back on his sister/lover Cersei for the first time ever after Cersei revealed that she is content in letting much of Westeros die in order to keep the Iron Throne for herself.
But even though Jaime Lannister is seemingly fighting with the good guys now, that will not save him from meeting his end in the upcoming Season 8. Of course, Nikolaj Coster-Waldau could never reveal a huge spoiler like his character dying or surviving the final season, but he did say that he was really hoping Jaime would make it through the final six episodes to see how things turn out at the very end of Game of Thrones:
I was talking to Lena [Headey] about this before we both found out. I was going, 'At this point, now that we're so close, you just want to make it to the end.' If you had gone out in season three or four, it would have been fine. But now, we're so close. It was definitely a relief to be a part of it.
Nikolaj Coster-Waldau's statement probably rings true for pretty much every Game of Thrones cast member. For most shows, being a part of the main cast carries some sort of unspoken invincibility, where lead actors can rest easy that their character is going to survive whatever comes their way. But Game of Thrones is notable for throwing that completely out the window in its first season by killing off Ned Stark, who was being treated as the main protagonist of the show up until his shocking, early death.
Now that Jaime Lannister has managed to survive being captured by the Starks, losing a hand, held hostage by Brienne of Tarth, and even nearly being blasted by one of Daenerys' dragons, it must feel like a relief for the Kingslayer to even be upright in the show's final season. We will see if Jaime can make it to the very end when Game of Thrones Season 8 premieres on HBO sometime in early 2019.