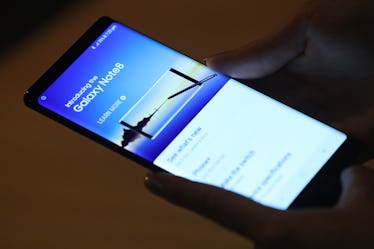 Here's What You Need To Know About Using iTunes On Your Galaxy Note 9
Sean Gallup/Getty Images News/Getty Images
On the heels of a massive unveiling of new products on Thursday, Aug. 9, Samsung also announced a new music partnership with one of the most popular music streaming services out there. For all the avid Apple Music subscribers out there, you may want to switch your service when you purchase the Samsung Galaxy Note 9. With the release of the new phone, people are wondering where they will stream their jams. So, will iTunes work on Samsung Galaxy devices? You might use this service instead.
At the Galaxy Unpacked event, Samsung announced that Spotify will be the preferred music app across all Samsung devices. Essentially, Samsung seems to be going in a direction that will make Spotify into what iTunes is for Apple's iPhone. On the Galaxy Note 9, Spotify will be integrated into the setup process. Spotify is home to more than 35 million songs, so there is no shortage of tunes for you to groove to. You will definitely want to crank up the jams, because the Galaxy Note 9 is equipped with the best-sounding speakers yet. At the Samsung event held at the Barclays Center in Brooklyn, New York, the tech company said the Note 9 AKG stereo speakers are the "loudest ever" on a Note.
As of this year, Spotify has 170 million active monthly users including 75 million Premium subscribers. Spotify Premium costs $9.99 a month and is an ad-free music streaming service that lets users listen to any song on any device. Spotify offers a free one-month trial for new users, so you can opt in once you set up your account on the Galaxy Note 9. Spotify also offers a free monthly membership that allows users to shuffle through songs, but this does contain adds and doesn't offer unlimited skips. Additionally, Spotify offers a $14.99 subscription for up to five people who live at the same address, as well as student pricing for just $4.99 per month.
Apple offers an Apple Music app for Android devices. With the launch of the new Samsung and Spotify partnership, it's unclear if the Galaxy Note 9 will still allow users to download Apple Music. Since Spotify is now Samsung's "go-to music streaming service," per a tweet from Spotify, it seems unlikely that Samsung would allow users to access Apple Music.
The integration of Spotify extends well beyond the Galaxy Note 9. Samsung is immersing itself entirely by bringing Spotify into all of its products. This will allow users to seamlessly stream Spotify across all of their Samsung devices and products — not just the Galaxy Note 9, according to Spotify. According to Spotify, users will be able to use the Spotify app on the Samsung Smart Switch. Samsung Smart TV users will also soon be able to listen to Spotify using the SmartThings app.
The Galaxy Note 9 isn't available for purchase yet, though. So, you won't be able to rock out just yet. The Galaxy Note 9 is available for pre-order on the Samsung website starting on Friday, Aug. 10. The mobile device will be released on Friday, Aug. 24, as well as available for purchase online and at authorized Samsung retailers.