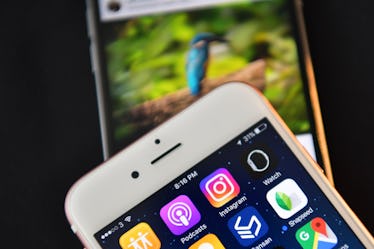 Here's What You Should Know About Finding Your Best 9 Instagram Photos For 2018
Carl Court/Getty Images News/Getty Images
There's a lot to look forward to as the year comes to a close. You're about to get a totally clean slate, and beforehand, you'll have a little time off from work or school to spend with friends, family, and pets. But the best part is how you've been able to access your best nine Instagram photos. Best Nine is essentially a collage of your top nine most liked photos in the past year, and honestly, it's super cute. So, if you're wondering: will Instagram will have Best Nine in 2018? I have some hella good news.
If you've been a fan of posting your Best Nine montage in previous years, you're in luck, because you'll be able to access your photomontage online at the Top Nine website or through the Top Nine app, which you can download from the App Store or Google Play Store. Just keep in mind you can't do it directly through Instagram, but it's a freaking holiday miracle nonetheless. You'll recall that last year, many people used a website called 2017 Best Nine. This year, the website that will best help you is called Top Nine, which you can visit at topnine.co. You can also access another app, the Best Nine app for 2018, in the App Store or Google Play on your phone or tablet to easily generate your 2018 Best Nine right there on your smartphone.
To download your best nine photos online, just navigate to the Top Nine website, and enter your IG handle. Then, simply confirm the email address you'd like to have it sent to, and you'll be good to go. You should receive it in your inbox pretty immediately. You can only make yours online if your Instagram account is public, though. If your account happens to be private, you'll have to download the Top Nine app from the App Store or Google Play Store. Then, you'll pretty much just have to login to Instagram through the app, and you'll be good to go. Either way is totally simple, and making your collage should only take a few minutes or less.
If you've never heard of Best Nine, on the other hand, you've been missing out. It's super a glorious third-party site and app which lets Instagram users rediscover their nine most-liked Instagram moments from the entire year. The site weaves each photo into a neat little collage for you, and you can share it with any and all of your followers. It's a great way to reminisce over your greatest and proudest moments from the previous year, so I highly recommend taking a look at each and every one of yours. It'll definitely bring back some solid memories.
Maybe you saw Melania Trump's Best Nine back in 2017, and if you did, you probably got a laugh or two out of it. I'm saying this in the nicest way possible, but some of those pictures are just so meme-worthy. There's the one where she and the POTUS are watching the eclipse, and then, there's the one of the White House Christmas decorations. They were super funny, and while 2017 was a bit of a rough year, it definitely made IG users LOL.
Best Nine (er, Top Nine for 2018) is a super fun tool, and I'm happy to say it's back for 2018. Make one for yourself or for a friend, post it along with a witty IG caption, or just keep it for yourself. Regardless, it's a great way to look back on the year, and I highly recommend each and every one of you to make one for yourself. Happy reflecting!
Editor's note: This post has been updated to also include the Best Nine 2018 app.