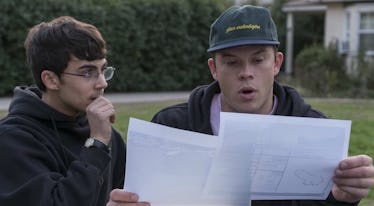 These Details About 'American Vandal' Season 2 Will Leave Fans Asking New Questions
Netflix
In its first season, American Vandal exploded as one of the biggest surprise hit shows of 2017, and now the mockumentary's creators are totally changing up almost everything about the show for its second season. Co-creators Tony Yacenda and Dan Lagana, and showrunner Dan Perrault, revealed all the ways that Season 2 of American Vandal will be different from the first season in a new interview with Vulture. So if you're wondering will Dylan be in American Vandal Season 2, or what new true-crime property the season will be sending up, then read on to get all the details.
One of the major breakout stars from Season 1 of American Vandal was Dylan Maxwell, the high school's resident underachieving class clown who became the prime suspect of the "who drew the d*cks" mystery, but unfortunately, fans have seen the last of him. The show's creators confirmed that Season 2 will be set in an entirely new place and focus on a completely different mystery, with only documentarian Peter Maldonado and sidekick Sam Ecklund returning from Season 1. Dan Lagana explained that although they knew Dylan was a popular character, the creative team decided against a cameo from him for fear that it would distract from the new mystery:
One of the questions we get most often is, 'Is Jimmy [Tatro] back? Is Dylan back?' We want each season to be its own crime, and we thought that even a cameo would just distract from the new case too much, so we wanted to really get ourselves deep into a new world without tying ourselves to callbacks that would distract from the main story.
So what is this new story going to be? Although the American Vandal creators did not reveal the mystery that Peter and Sam will be investigating in Season 2, they did drop a ton of new information about the season. Most importantly, they revealed that American Vandal Season 2 will be set within a private Catholic high school, rather than the public high school from its first season, and that shift will affect a lot of the big changes in the new season. Apparently, Peter and Sam will be venturing into this elite private school full of wealthier kids as a part of their senior project.
And fans should not expect a rehash of the "who drew the d*cks" controversy — Tony Yacenda, Dan Lagana, and Dan Perrault assured that the new central mystery is completely different from Season 1. The new season will also be different in terms of structure. While Season 1 employed voice-overs and told a linear story inspired by true-crime fixtures Serial and Making a Murderer, the team teased that Season 2 will involve a lot more talking head interviews, and that it will be much more similar to The Jinx.
Although these new details definitely help fans get an idea of the direction Season 2 will go on, a lot about the upcoming season is still shrouded in mystery. A few months back, Netflix described two new characters who will be starring in the second season alongside Peter and Sam: Ethan (played by Travis Tope) is a high school junior who wears a fedora and carries a pocket watch, and DeMarcus (Melvin Gregg) is another junior who is the top basketball player at the school. How these new characters will interact and be wrapped up in the central mystery is still a total question mark.
Season 2 of American Vandal also has not received an official premiere date yet, but it is slated to premiere sometime in 2018, so it will most likely drop on Netflix sometime this fall.