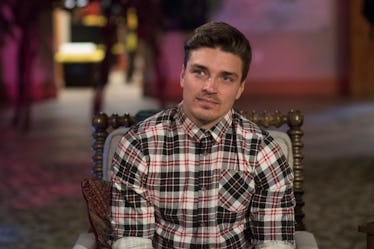 Dean Unglert Is Single Again & There's One Question On Bachelor Nation's Mind
ABC/Lorenzo Bevilaqua
Now that winter is finally coming to an end, it's time to start looking forward to Bachelor in Paradise (love ya, Becca, but I'm not expecting your season of The Bachelorette to be especially beachy). Paradise's sun-soaked boozefest proves entertaining summer after summer, and Season 5 will likely be no exception — especially if the newly single Dean Unglert makes an appearance. Will Dean go back to Bachelor in Paradise? Now that he's broken up with Bachelor Winter Games' Lesley Murphy, there's nothing holding Dean back from starting some drama down in Mexico.
Dean and Lesley were one of the cutest couples on Bachelor Winter Games, so their breakup was particularly surprising for Bachelor Nation. After winning over our hearts on Winter Games, Dean got down on one knee during the "World Tells All" special and proposed... that Lesley have a key to his apartment. Not quite the world's most romantic gesture, but coming from Dean, who fans haven't really seen be super sincere before, it was sweet. After filming wrapped, the two posted countless cute pics on their social media accounts, and it seemed like all signs were pointing to a long and successful relationship until E! reported that the couple had split on April 6.
According to a source close to the relationship, maintaining a long distance relationship just proved too much for Dean and Lesley to manage.
It is very recent, but they have been rocky for a few weeks now. Distance and traveling were a factor. They are both going to continue to be friendly and are on good terms, but their romantic relationship has ended.
Their breakup definitely sucks, but there's a silver lining: it's now likely that Dean will make an appearance on Bachelor in Paradise. Bachelor Winter Games was fun, but Paradise is where sh*t really hits the fan — as Dean is well aware. During Season 4 of Paradise, Dean found himself on the wrong side of Bachelor Nation when he got involved with both Kristina and Danielle. The love triangle quickly spiraled out of control, and Dean essentially ended up breaking both of their hearts. Needless to say, fans were pissed.
Despite all the negativity surrounding Dean, his stint on Bachelor Winter Games got him more than just Lesley's love: it redeemed him in the eyes of Bachelor Nation. And now that he's single, fans are rooting for him once again to find love in Paradise — but this time, with just one woman.
If Dean does end up making it to Paradise, he'll be reunited with some of his Winter Games co-stars. In March, ABC's senior vice president of alternative programming, Robert Mills, told E! News that Bachelor in Paradise will feature some international faces in Season 5:
I definitely think you'll see some international faces, but not sure how many or where they are going to come from ... We'd want people that you're familiar with from Winter Games unless there are people that are absolutely fantastic.
Introducing viewers to international Bachelor contestants was a big move on ABC's part, but the success of Winter Games proved that their gamble paid off. Who wouldn't want to see some new faces in Paradise this summer? New faces equal new drama, and you know I'm all for that.
The addition of international cast members isn't Paradise's only new move for Season 5: ABC also plans to change things up behind the bar. Said Mills, "I think you're going to see some surprises behind the bar, let's just say that." Ooh. I'm intrigued. Last season's bartender, Wells Adams, is now dating actress Sarah Hyland, so it's possible that he won't be returning to Paradise. If Wells doesn't return, I'll definitely miss him, but these behind the bar "surprises" sound pretty interesting, so I'm not heartbroken over the loss.
So, keep your fingers crossed that the newly-reformed Dean will make an appearance in Paradise. Or, if you're a glutton for drama, keep your fingers crossed that he's not so reformed, after all.