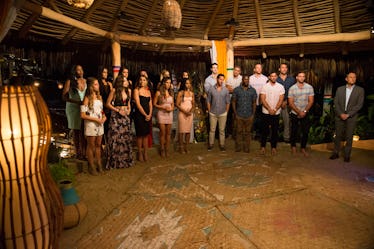 International 'Bachelor In Paradise' Contestants May Join Season 5 & We Can't Wait
Tossing international contestants into the very American Bachelor Winter Games could have gone disastrously, but it's safe to say that the addition of these brand new faces made Winter Games a fresh, interesting watch. Given how well some of the franchise's international stars were received (Courtney and Lily FTW, right?), ABC could capitalize on this new approach to its casts in the near future. International Bachelor in Paradise contestants may join Season 5 this summer, and I may feel obligated to actually keep up with Paradise if this is true.
Robert Mills, senior vice president of alternative programming at ABC, hinted to E! News that he may be recruiting some of the familiar international faces for the upcoming season:
I definitely think you'll see some international faces, but not sure how many or where they are going to come from... we'd want people that you're familiar with from Winter Games unless there are people that are absolutely fantastic.
It sounds like Mills and the rest of the ABC team may save new foreign contestants for any potential future seasons of Winter Games. After all, it would be a little cruel to throw a person who is completely new to American audiences to the wolves. Even regular franchise contestants who didn't receive much screen time on the original show often struggle when they go on Paradise (Lacey Mark, anyone?).
Incorporating contestants from foreign branches of the franchise was actually in the forecast for Season 4 of Paradise. While American contestants and Paradise alums Jared Haibon, Grant Kemp, and Daniel Maguire have recently appeared on Australia's own Bachelor in Paradise series, Winter Games' own Courtney Dober was originally going to appear on Paradise last year.
Speaking on The Ben and Ashley I. Almost Famous Podcast, Bachelorette Australia contestant Courtney revealed that the Season 4 production shutdown and subsequent shortened filming schedule prevented him from joining the show:
I was actually meant to be on Paradise... last year... I was on standby for my flight from Sydney. Then I was meant to fly out on a Sunday, and then it got to, like, midnight Saturday and I hadn't heard anything and I was like, 'Something is not right here.' And then one of the producers called me at 3 a.m. Australia time and just said, 'Something's happened, we've cancelled the show, we'll explain more later, but we're not flying you over.'
As Courtney is happily wrapped up in a Winter Games romance with Lily, he'll likely be a no-show for Paradise this time around. While some fans may be starting a "Yuki for Paradise" campaign, Mills also shared that the need for foreign contestants could decrease because of how strong the most current Bachelor and Bachelorette casts are.
I think we're really lucky because we're coming off such a strong season, both seeing the guys who are going to be on Becca's season, too, they're absolutely fantastic. I think you're going to have great men and women from these previous seasons, as well as some people from the past. Sometimes it takes some distance for people we've always wanted to do it to be able to do it. I'm excited, I think this is going to be a great cast.
While the majority of Paradise casts usually comprise of contestants from the most recent seasons, there are always one or two token "Oh, yeah, that guy!" cast members. Mills mentioned the possibility of including Bachelorette Season 6 winner Roberto Martinez in the cast, as well as bringing in a newcomer to serve as the Paradise bartender:
I think [Roberto]'s absolutely fantastic, a super nice guy and a stunning looking human being as well. He would be very popular there!... I think you're going to see some surprise behind the bar, let's just say that.
Mills may not fully commit to any foreign Paradise contestants now, but am I the only one who thinks German contestant Christian is made for the tropical setting? The guy is clearly dying to follow up on another hot tub or ocean date with someone. Bringing back Swedish star Stassi after her heartbreak from Luke Pell would also be sweet to see.
The Bachelorette returns to ABC on Monday, May 28, while Bachelor in Paradise premieres later this summer.