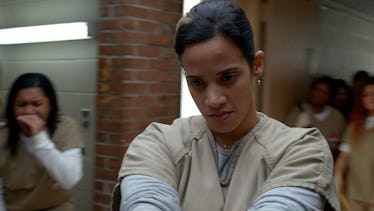 'Orange Is The New Black' Fans Are Wondering How Daya Will Be In Season 6
Netflix
Orange Is the New Black's sixth season is upon us — the show begins streaming new episodes on Netflix Friday, July 27 — but there's still so much viewers don't know about what to expect. Season 5's conclusion left audiences wondering about a handful of crucial cliffnhangers, including the fate of Dayanara Diaz (played by Dascha Polanco). Will Daya be in OITNB Season 6? The principal character faces the consequences of turning herself in for shooting Corrections Officer Humphrey.
Let's rewind to last season in case you need a refresher. You may recall that Daya ended up firing a gun, the bullet from which landed in CO Humphrey's leg. The action set off the chaotic prison riot which dominated Season 5. She ultimately came clean about the move to protect her daughter and her fellow inmates, but of course that means she's likely headed to Max. Humphrey died — although the fatality seemed to truly be in the hands of Kukudio in the infirmary when she blew bubbles into his IV drip causing a stroke. Despite that, it appears that Daya will be the one blamed for his demise.
Daya's next chapter was surrounded with uncertainty — even actress Dascha Polanco wasn't sure about where she was headed.
"As in life when you're in prison, you don't know if you'll survive, if you'll be transferred, if they'll keep you in there, if they set you free. We know there is a Season 6, but we don't know where the destiny lies… Unless I hire a psychic," she told the International Business Times last summer.
"Daya's on her own; she just committed a crime [and] obviously that will be punished," Polanco added to USA Today following Season 5, regarding her character's future. "You might not see her ever again."
Netflix released a full trailer for OITNB Season 6 on Monday, which offers up some insight into how the Litchfield inmates fans have come to know and love might play into all the changes to come. Well, it's off to maximum security for much of the main Litch crew.
"It's a whole new world," the clip promises, while highlighting mugshots of characters like Suzanne, Piper, Gloria, and Cindy.
In a blink-and-you'll-miss-it moment, there is a glimpse of Daya in the yard alongside her mother Aleida (Elizabeth Rodriguez) and Blanca (Laura Gomez). There are also at least 3 more shots of her throughout the clip. Perhaps that's confirmation enough that Daya is a part of the upcoming season, although the extent of the focus on her is still unclear.
"You have no idea how strong my girls are," Galina "Red" Reznikov (Kate Mulgrew) warns at one point in the promo. "We have iron wills and f*cking nothing to lose."
Selenis Leyva, who plays Gloria on OITNB, weighed in how characters like Daya would fare in a maximum security envorinment. The actress explained to The Hollywood Reporter last year:
We probably haven't seen all Daya is capable of. She's a survivor like all of these women are, and once you get into a position like they're all in, it's about survival and you adapt. I don't think any of them thought, 'Can I ever survive prison?' But it happens and then maybe the person who you think won't survive is the one who makes it in the end. It's going to be interesting to see who survives max and who doesn't.
As Suzanne notes in the Season 6 trailer when entering her new prison life in max, "This isn't home. This is not home."
"It is now," a guard responds.
It's a whole new world, indeed. Orange Is the New Black Season 6 premieres on Friday, July 27.