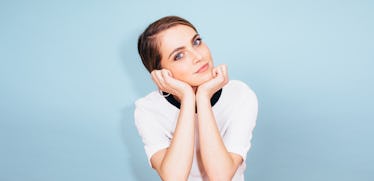 Anne Winters From '13 Reasons Why' Has Her Own Season 3 Chloe Theories & They're Intense
Ben Ritter
13 Reasons Why excels best when it flips around a well-known character trope and reveals that the jock isn't a jerk or the artistic kid is far from being a loner. We all contain multitudes, and Season 2 of the hit Netflix drama sought to prove that in one of its new characters, cheerleader Chloe. Fans were confused when Chloe, Bryce's girlfriend and another victim of his sexual assault, suddenly defended him in court and claimed that she consented to sex with him. Her defense made sense when she revealed she was pregnant in the finale, but her fate was left for exploration in Season 3. Elite Daily caught up with actress Anne Winters for hints at one of viewers' biggest questions after watching Season 2: Will Chloe get an abortion in 13 Reasons Why Season 3?
Initially introduced in the same vein as every other teen drama's icy cool cheerleader, Chloe's story deepened when she struggled in saying no to Bryce initiating sex. The moment differed from Bryce's past sexual experiences because he was in a real relationship with his partner, and Winters believes that the scene showed sexual abuse in a little-seen light.
"It shows a different realm to it," she says. "Chloe kind of shows that a lot of girls maybe did have that same situation and were in a relationship. It can even happen in a relationship... Sometimes it's, 'well, I don't know. It felt really weird and maybe it was wrong and I don't really know. And it's not like we've never had sex before, so it should be fine.'"
Winters, a Daytime Emmy winner for her lead role in the go90 series Zac and Mia, is torn about how Chloe will handle her pregnancy in the officially confirmed Season 3, but she has an idea about what options the character will face. "I think abortion will be discussed for sure," she says. "I'm not really quite sure which side she'll take. I feel like Chloe would be the type to be like, 'Yeah, I'll get rid of it.' I feel like Bryce would tell her that [she] need[s] to get rid of it, and so would his parents... And then I'll get there and then be like, 'Oh my god, I can't do it. I can't do it.'"
13 Reasons Why hasn't shied away from tackling often taboo subjects in its content, and teen pregnancy and abortion inevitably seem to be its next hot-button issues. With Bryce due to attend a new school in Season 3, his physical and emotional distance from Chloe may dominate both Winters' and Justin Prentice's storylines, but Winters also has some theories about what other characters will be up to next season.
"I really want to see Tyler somehow get better or just have a triumph moment," she says. "He's just been always punched and punched and punched. I also really want to see a couple more positive aspects to different characters. Now that Hannah has kind of gone away and we've put her to rest... I think that there will be a more uplifting tone to it. And I'm curious to see what that entails."
While other storylines may take a lighter path, the complex relationship between Bryce and Chloe could likely provide a majority of the season's angst. "I think that we really tried to portray that he has a hold on her," Winters says of the pair's dynamic during Chloe's testimony. "if you're looking into someone's eyes that you love and you're about to literally ruin their life, it's like you think you can do it and then you can't. Because it's someone that you really care about, and even though they've done something wrong, you still kind of have a piece of you that's so weak to them."
Much of Chloe's story is still ahead of her, but Winters has already learned a lesson from the character's Season 2 journey. "I feel like everyone should take away that not everyone is in a perfect situation, and if you have a gut feeling, maybe go with it or take some time by yourself to really think about what's right for you," she says.
We'll have to wait and see if Chloe does embrace her independence and own thoughts further down the line. Season 3 of 13 Reasons Why will debut on Netflix in 2019.