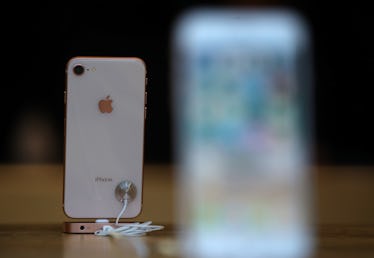 These Cars Will Support Wireless Charging, So Forget About Traveling With Your Cord
Justin Sullivan/Getty Images News/Getty Images
Apple considers its new devices to be the smartphones of the future, so everyone else better get in line and adjust accordingly. One of the most highly anticipated features of each gadget is the wireless charging, and being able to get battery life while you're on the go is a definite must. People are beginning to wonder if cars will have wireless chargers for the iPhone 8 and iPhone X, and the answer is "yes."
Qi charging pads are already a staple many manufacturers have added, according to TechCrunch. If you're heading to work and need some juice on your cell, Qi has you covered. Let's be honest: This is 2017, and we don't have time to untangle our chords — especially while we're en route to our destination.
There is a slight hitch, however. Many of the iPhone 8 Plus models are too large for the charging pad, in which case you'll need a cable to restore your 1 percent battery life. Try not to be too bummed by this news.
The charging pads built into these automobiles will most likely work well — unless you opted for the supersize iPhone 8 — according to TechCrunch.
Audi
BMW
Chrysler
Ford
Honda
Mercedes-Benz
PSA
Toyota
Volkswagen
Volvo
That generally covers a fairly decent range of brands, and millennials like yourself probably have something that will fit into one of these categories. Fortunately, many Uber and Lyft drivers likely have one of these types of cars, so (without tarnishing your rating) you can politely ask your driver to charge your cell while you're on your ride. This is a win-win, folks.
Things are a little unsettled with GM, though, and only certain makes and models support wireless charging for the iPhone 8 and X. Here's the list:
2018 GMC Terrain
2018 GMC Yukon
2018 GMC Sierra
2018 Chevrolet Bolt
2018 Chevrolet Tahoe
2018 Chevrolet Silverado
2018 Chevrolet Suburban
2018 Cadillac Escalade
2018 Buick Enclave
But before you concern yourself with the wireless charging, you're going to need to know how to pre-order your iPhone X.
Let's face it: The iPhone X totally stole the thunder away from the iPhone 8. According to an Apple press release, the $1,000 gadget will available to pre-order on Friday, Oct. 27 at 12:01 a.m. PT. While speaking at a new store in Chicago, the brand's retail chief Angela Ahrendts said heading to the the the app store on Oct. 27 is the best way to secure your iPhone X order, according to BuzzFeed News. Make sure your app is up to date and you're ready to log on at 12:01. There is no time to waste here.
For those who are less inclined to pre-order in the wee hours of the morning, Apple's press release states that the X will be available in more than 55 countries and territories beginning on Nov. 3. Before you breathe a sigh of relief, note the brand's warning: "Stores will have iPhone X available for walk-in customers, who are encouraged to arrive early." You might want to start camping out now.
To get hyped for the phone's arrival, have a look at this snazzy video.
There is certainly a lot to look forward to with the iPhone 8 and iPhone X — the wireless charging (of course), 3D gaming experiences, augmented reality, facial recognition systems, and perhaps the most exciting feature of them all, animojis. What a time to be a techie. Nobody bother us at 12:01 a.m. on the 27th.
Check out the entire Gen Why series and other videos on Facebook and the Bustle app across Apple TV, Roku, and Amazon Fire TV.