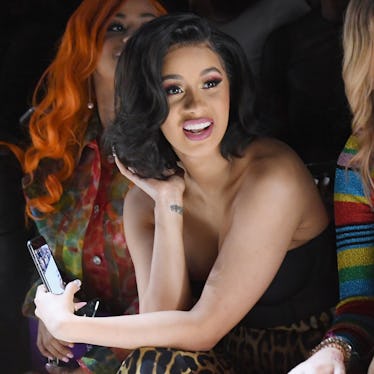 Cardi B Could Perform At the 2019 Super Bowl Under One Big Condition
Nicholas Hunt/Getty Images Entertainment/Getty Images
Cardi B is on fire right now. Her name is constantly in the headlines, her chart-topping music is reaching millions, and she's a new mom. What more could a girl want? Well, if you're Cardi B, you'd want to take the stage at the Super Bowl alongside Maroon 5. So, will Cardi B perform at the 2019 Super Bowl? That remains to be seen, but if she does perform, it'll be under one condition: that she gets to perform her own set. Elite Daily reached out to Cardi's reps for comment on this story, but has not heard back at the time of publication.
According to TMZ, Cardi is reportedly trying to negotiate her own set during the 2019 Super Bowl Halftime Show, which will reportedly feature Maroon 5 as its primary act. She's already reportedly negotiating an appearance at the show to perform "Girls Like You," a collab she did recently with the band. The song just reached the top spot on the Billboard Hot 100, so Cardi and Maroon 5 are definitely riding high on their success right now.
In their report, TMZ went on to explain that Cardi is reportedly being offered a lot of opportunities to perform in early 2019 and now she's working on snagging the best deal. And that's definitely a smart move for someone so early in their career. Cardi has only been at this for a few years, after all. Most artists wait forever just to be offered a spot at the Super Bowl Halftime Show. So, if you were to ask me, I would say Cardi is doing really well for herself and making smart business moves.
Career moves, aside, though, featuring Cardi during the 2019 Super Bowl Halftime Show would be a smart move for the NFL. It would possibly ease some of the backlash they've been receiving for reportedly choosing Maroon 5 as their headliners. Since the 2019 Super Bowl will take place in Atlanta, a lot of fans were excited by the prospect of having a hip hop artist from the area perform. Maroon 5, on the other hand, is from Los Angeles and definitely doesn't represent anything ATL-related. Neither does Cardi, but she's part of the hip hop world, at least. For her to have top billing at a Super Bowl Halftime Show would be a history-making move. So, there's a lot of potential here if Cardi plays her cards right.
All of this is really good news for Cardi, especially since she was only recently combating negative press thanks to her ongoing feud with Nicki Minaj. Cardi and Minaj got into a scuffle during a New York Fashion Week event and, as you can imagine, the backlash that followed wasn't pretty at all. Even Minaj had her say on the situation during a Queen Radio episode, which made Cardi seem like the instigator in the whole situation.
Needless to say, Cardi could use some good press. It seems like things are turning around for the 25-year old rapper and that's always a good thing. It would be wonderful for her to end an incredible year on a positive note. Here's hoping this positive streak continues for Cardi!