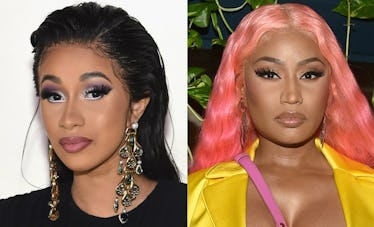 Cardi B Just Revealed Whether Or Not She's Planning A Nicki Minaj Diss Track
JAMIE MCCARTHY/BRYAN BEDDER/GETTY IMAGES
The drama has been non-stop between Cardi B and Nicki Minaj, ever since the pair got into a heated altercation at the Harper's Bazaar Icon party during New York Fashion Week back in September. The brawl reportedly involved Cardi throwing her red heel at the "Barbie Dreams" singer while accusing her of "spreading lies," and I'm not gonna lie, I totally wish I had been there to see that. Now, I just wanna know: will Cardi B drop a Nicki Minaj diss track? Because rumors have been circulating for the last few weeks that the "I Like It" rapper has a reportedly brutal one in the works.
Cardi already shut down initial rumors about the track on social media, but now she's driving the point home by responding to all the speculation in a new interview on Apple Music's Beats 1 show.
"The way that I came up, it was never about dissing nobody, and I still feel like I don't need to diss anybody for nothing," she said. "My music was never about that."
Well, okurrr then!
"I have a short temper, so that's like doing things that I don't stand for," she continued. "I don't like when people be subbing me, so why would I subbing you on music? Any problem that I have, I always address people face-to-face."
So there you have it! The two rap queens may have major beef, but Cardi is not here to play the diss-track game.
Cardi also discussed her new single, "Money," which she ended up releasing two days earlier than scheduled after it was leaked.
"This happens all the time, you know?" she said. "When you give it to streaming services, it might go to a freakin' different country, and somebody from there leaked it. And, you know, people don't like you, so they're gonna keep spreading it. It was literally the people who hate me who posted it. My fans were like, 'Please, don't post it."
Could those "people" be Nicki's fans (a.k.a. Barbz)? Cardi seems to think so. On Oct. 24, the Bronx-born rapper hit up her Instagram Story and went off about the "Money" leak, seemingly blaming the Barbz for it spreading.
"My song 'Money' got leaked. We tried to retract it, but you know the Barbz," she said. "They always posting me, they always post everything I do, you know what I'm saying? They claim they hate me, but they really love me, because they be on my page before my fans. Everything that I do, they be on it before my fans. So clearly, that seems like love to me, seems like you love me. So, it's like, 'F*ck it.' I can't retract it, I might as well put it out."
Way to take a negative and turn it into a positive, mama!
Let's hope that Cardi refraining from dropping a diss track means these two powerhouse rappers are closer to a reconciliation. I need them to work it out ASAP because I think they are both goddesses, and I really don't want to have to choose sides.