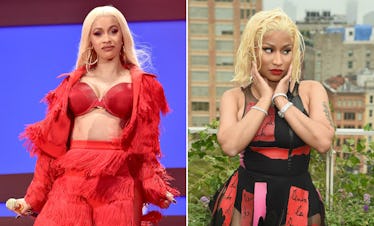 Cardi B Has A Surprising Message For Nicki Minaj Fans Who Keep Hating On Her
Theo Wargo & Dimitrios Kambouris/Getty Images Entertainment/Getty Images
Cardi B is opening up about Nicki Minaj's fans and what she has to say about them is surprisingly positive. The 25-year-old rapper took to her Instagram account on Tuesday, Oct. 23 to express her feelings about the way Minaj's fans, also known as "Barbz", react to her on social media. While her own fans are constantly showing her love, Minaj fans aren't necessarily doing that. Cardi B's comments about Nicki Minaj fans hating on her show that she takes pretty much everything in stride. And that's probably why so many people love her.
In an Instagram Live video, Cardi addressed her fans and followers to say that she thought Minaj's fans were the reason her new single "Money" had to be released two days in advance.
"I think it got leaked because sometimes you send your record early to these streaming or these music platforms, someone from they building leak it and everything," Cardi said in the video. "And then we tried to retract it but you know the barbz… they always posting me, they always post everything I do. They claim to hate me but they really love me because they be on my page before my fans. Everything that I do, they be on it before my fans. So, clearly, that seems like love to me."
You can watch Cardi's Instagram video down below:
She doesn't even seem mad about the whole thing. She's simply stating all this as if it were fact. Maybe the Minaj fans do, in fact, love Cardi so much that they'd risk promoting her single before it even drops. Even if they don't, Cardi seems to be taking it as a win anyway.
Cardi's comments shouldn't come as a surprise to anyone. She's absolutely not averse to calling out people when she feels it's necessary. Just last week, on Oct. 17, Cardi gave TMZ a mouthful about a rumored diss track about Minaj. Elite Daily reached out to both Minaj and Cardi's teams for comment at the time, but did not hear back by the time of publication.
In any case, Cardi had a lot to say about the rumored diss track and after she got everything off her chest, she turned the whole thing around into a positive. She even promoted "Money" at the end of it. Here's what she had to say:
Dear TMZ ...ya constantly got me in ya blog spreading fake s--t about me without doing ya research and even when we tell ya is not true ya still push it," Cardi wrote in an Instagram post that she later deleted. "Ya motherf--kers need to get off my dick and start reporting about them actresses ya used to report about cause I'm not the one to f--k with THANK YOU!! Btw in REAL news my single 'Money' drops November 26!!
These comments from Cardi are exactly what you expect from her when any kind of foolishness is happening behind the scenes. Even though Cardi doesn't take things lying down, she at least keeps her head up and her thoughts positive about all of it!