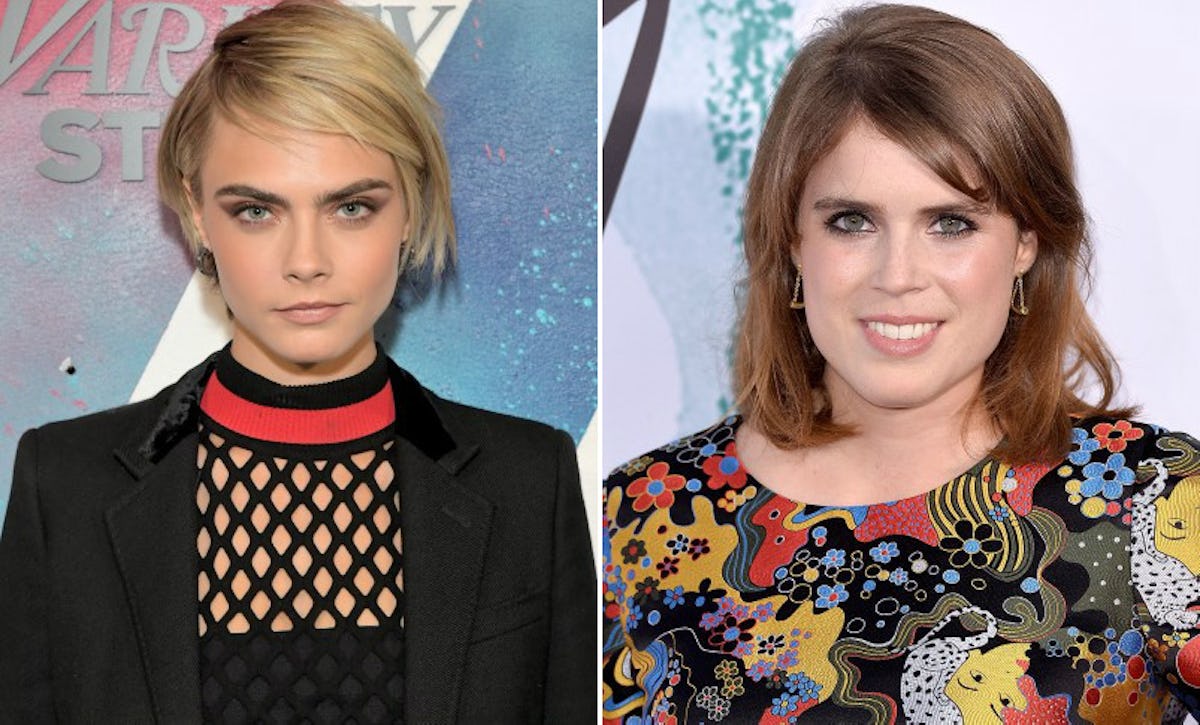 Here Are The Chances Cara Delevingne Will Be At Princess Eugenie's Wedding
Charley Gallay/Getty Images Entertainment/Getty Images | Jeff Spicer/Getty Images Entertainment/Getty Images
It's been said that Princess Eugenie's wedding will be a star-studded event. With names like George and Amal Clooney, James Blunt, and Ellie Goulding reportedly on the guest list, Princess Eugenie's wedding is be shaping up to be an incredible event. But will Cara Delevingne be at Princess Eugenie's wedding? Since the A-list model and Eugenie have been friends for a while now, it's possible that Delevingne might show up!
The two reportedly met back in September 2015 when they attended a party during London Fashion Week. Delevingne and Princess Eugenie were photographed smiling and walking arm-in-arm, so they were at least friendly at that point. It's possible that they were friends even before that, though. According to The Daily Mail, Delevingne attended Princess Eugenie's 25th birthday in June 2015. Either way, Princess Eugenie and Delevingne have been friendly for quite some time, so the chances of Delevingne attending Eugenie's wedding are pretty good.
Despite all that, though, some people find it curious that Princess Eugenie and Delevingne don't follow each other on social media. According to Bustle, Princess Eugenie follows BFF Ellie Goulding, but not Delevingne. And that raises some questions about who's invited to the wedding and who's not.
But social media isn't everything. And it's not always an indicator of close friendship. So, maybe Eugenie and Delevingne are super close in real life and prefer to keep their interactions off of social media.
Whatever the case, I guess everyone will just have to wait and see if Delevingne shows up. And if she does... well, I wonder if she'll bring her rumored girlfriend Ashley Benson along. I suppose that's another question that'll be answered in the early morning hours of Friday, Oct. 12, which is the day Princess Eugenie will get married.
Princess Eugenie and her longtime love Jack Brooksbank will tie the knot at St. George's Chapel at Windsor Castle in front of 850 guests. The guest list includes members of the royal family, of course, as well as some other famous faces. Aside from the Clooneys, Blunt, and Goulding, the guest list will likely include Chelsy Davy (Prince Harry's ex-girlfriend), Robbie Williams, and Elton John.
Some familiar royal faces will also be making appearances during the ceremony. Princess Eugenie has arranged to have Prince William and Kate Middleton's children in the ceremony. Prince George will serve as a page boy and Princess Charlotte will be a flower girl. So, even if Delevingne doesn't show up to the wedding, there'll be plenty of recognizable faces at the wedding on Friday!
Princess Eugenie and Brooksbank also invited 1200 members of the public to witness the exciting day. Like Harry and Meghan before them, Eugenie and Brooksbank will also have an open carriage procession after they've exchanged their vows. So, all those royal family enthusiasts who attend the festivities will get a glimpse of Princess Eugenie and her new husband. It's going to be a wedding to remember, for sure.
If you're someone who wants to wake up super early on Friday morning to catch a glimpse of the bride and groom, you're in luck. The wedding will be televised on TLC, so be sure to tune in!