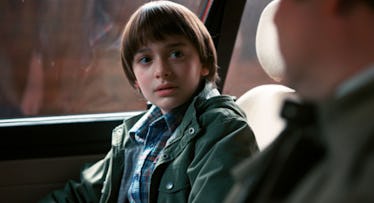 Will Byers' 'Stranger Things' Audition Story Will Make You Love Noah Shnapp Even More
Netflix
Anyone who owns a television set or has access to the internet knows that Stranger Things is (rightfully) the modern definition of an overnight success and is, currently, one of the most popular shows available for binge-watchers on Netflix. Something about Hawkins' dark underbelly just keeps us all coming back for more. Just when you thought you couldn't love the show or its cast members anymore, though, Noah Schnapp recently revealed some behind the scenes info. about his Stranger Things audition for Will Byers that will prove you wrong.
That's right, before becoming one of the most popular kids on planet earth, Noah Schnapp was just a normal kid doing normal kid stuff like riding bikes, playing video games, and going to camp. In fact, it was while he was at camp that he got the phone call asking him to be on Stranger Things, effectively changing his life forever. In an interview with NKD magazine, Schnapp talks about his audition, the role he originally went out for, and the phone call that marked the beginning of his career. Like I said, if there is one way to love Stranger Things and Will Byers even more, this is it.
"I go to camp every summer for seven weeks and it's like sleepaway camp," Schnapp tells NKD. "You have three phone calls every summer with your parents and I was on my last phone call. And this was some audition blurred with all the other auditions I did, so I didn't remember what it was, but I remember them calling me."
At the time, Schnapp, who originally auditioned for the role of Mike on the show, had auditioned for so many shows that he didn't even remember what Stranger Things — then titled Montauk — was about. He was, nevertheless, thrilled when he learned about the show and his character, though.
"They called me and they were like, 'Hey, Noah!' and I was like, 'Who's this?' and they said, 'Oh, you got the role of Will Byers on Montauk!' and then they explained the whole thing and I was like, 'Oh my God!' he says. "I was so excited and things have just been going from there. It was just very different from things I've seen."
If that's not exciting enough for you, then you might like to know that Noah was at the same camp the following year when Stranger Things first came out on Netflix, so he didn't even know about the show's success until he was back home. The actor spoke withTeen Vogue last year, telling them,
I went to camp and I came back, and I saw that people from across the world were watching the show, and everyone was interacting with us on social media. I was so happy and amazed by how far the show had gone.
Schnapp's isn't the only Stranger Things audition story that has surfaced recently. Indeed, much to the delight of Stranger Things fans, Dacre Montgomery's wild audition story has been all over the internet over the past few weeks.
As you probably know, Montgomery plays Season 2's biggest bully (read: assh*le) Billy; though it's easy to hate his character, it's hard not to love Dacre Montgomery after seeing his audition tape, which features him dancing shirtless to Dexys Midnight Runners.
"I just kind of wanted to make a bit of a splash with the Duffers, because I assumed they would be getting so many tapes," Montgomery said in an interview with GQ. "I had the audition details for about a day, and I did the whole thing in the first day because I was so overwhelmingly excited about it."
"I got up, kinda went crazy, shaved all my hair off around my face except for my mustache, and then rang two friends who are still studying at the acting university that I went to here in Perth," said the actor. "I was like, 'Can you help read for me behind the camera tonight?' Then, during the day, I made everything else happen — the dancing and the rest, going out in the G-string and just playing around with it, and putting it together on iMovie and doing all that sort of stuff."
Clearly both of these audition stories worked out favorably for the actors. Call me when Bob's audition tape ends up online.
Check out the entire Gen Why series and other videos on Facebook and the Bustle app across Apple TV, Roku, and Amazon Fire TV.