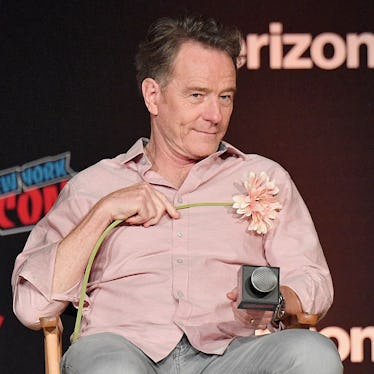 Bryan Cranston Revealed Whether Or Not He's Interested In The 'Breaking Bad' Movie
Dia Dipasupil/Getty Images Entertainment/Getty Images
This past week has seen a spate of news for movies based on former or current TV properties. The Walking Dead revealed Andrew Lincoln's exit was so he could star in a trio of spinoff films. HBO announced the Deadwood movie had started production. Downton Abbey released new stills from filming at Highclere Castle. Now, the latest news is that Breaking Bad, one of AMC's biggest shows ever, will also be getting a feature film. Will Bryan Cranston be in the Breaking Bad movie? The actor has made it clear he wants in.
Precisely how this will work is unclear at this moment though. According to reports, Breaking Bad creator Vince Gilligan is working on the film, though it's not clear if it's for the big screen like Downton Abbey or the small screen like The Walking Dead. Gilligan already has a prequel doing well in the ratings, Better Call Saul. Slashfilm reports the film will be a sequel.
If anything, this suggests — and Slashfilm confirms — Jesse Pinkman (played by Aaron Paul) would be the lead in the story, which currently has the following logline:
[T]he movie [tracks] the escape of a kidnapped man and his quest for freedom.
Most fans were taken aback when the rumors surfaced this week the film currently in pre-production down in New Mexico under the working title of Greenbrier was actually a Breaking Bad movie. But once the cat was out of the bag, The Hollywood Reporter confirmed the news:
Gilligan, sources say, will pen the script, executive produce and possibly direct. Breaking Bad and prequel series Better Call Saul exec producers Mark Johnson and Melissa Bernstein are also said to be attached to the film project, which is said to follow the escape of a kidnapped man and his quest for freedom. Production is expected to begin this month in New Mexico. The New Mexico Film Office confirmed that a project with the title of Greenbrier is slated to shoot in in the region.
It wasn't long after this, as Cranston admitted during an appearance on The Dan Patrick Show, that he'd known the project was happening.
Yes, there appears to be a movie version of Breaking Bad. But I honestly have not even read the script. So I couldn't tell you... If Vince Gilligan asked me to do it, sure, absolutely. He's a genius.
The TV series ended with Walter White's death, an ending that left Jesse to pick up the pieces and put his life back together. Though from the simple synopsis of "a kidnapped man," it sounds like poor Jesse is not having the best go of it without Mr. White to protect him.
But considering the influence White had over Jesse, perhaps Cranston could appear in flashbacks or as a ghost. If nothing else, White would be the subject of the thousands of hours of therapy sessions Jesse would need to work through before being able to move on with his life.
No word of when the Breaking Bad movie will premiere, but 2020 seems a likely guess.