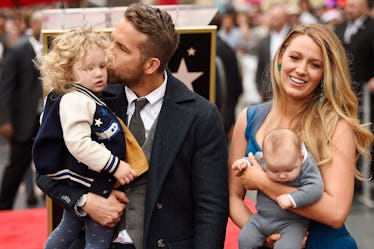 Ryan Reynolds Just Revealed If He's Planning To Have Another Baby With Blake Lively Or Not
Matt Winkelmeyer/Getty Images Entertainment/Getty Images
You know them. You love them. They're the dream team duo we all strive to be. They're Blake Lively and Ryan Reynolds. The two gorgeous, hilarious, talented celebrities have carved out a little slice of heaven for themselves in their home in Bedford, New York, where they live with their two daughters, James, 4, and Inez, 2. They're almost too good to be true. Obviously, prying fans are always wondering — Will Blake Lively an Ryan Reynolds have a third baby?
Reynolds popped by my main girl Ellen DeGeneres' show where he got candid about his adorable family and where he and Lively currently stand in the baby-making market. The two also spoke about things like his upcoming PG-13 Once Upon A Deadpool movie designed for parents to watch with their children, the holidays, and sex. Specifically. DeGeneres opened her interview by asking about Reynolds' oldest daughter who was just traveling with him. "So she's four, and you had another one with Blake Lively. How old is that child?" DeGeneres asked. Reynolds responded by quickly noting, "That happened from sex, just FYI. And she's two. She just turned two."
The crowd loved it. Not one to miss out on an opportunity for a joke, DeGeneres asked the question, "You've only had sex the twice?"
"Just the two times. It's a mercenary job," Reynolds replied. "Hoping for a third soon."
Record scratch. DJ, play that track back.
Just as the crowd was going nuts over what seemed like a big reveal, Reynolds shook his head and quickly retracted his statement. "Nooo," he said. Turns out, he was simply making a sex joke. "They say you need to do 10,000 hours of anything you want to be an expert at," he finished.
Well, that was exciting for a moment, anyway.
DeGeneres and Reynolds turned their conversation to his movie and the Christmas season where it was revealed Reynolds and Lively are actually neighbors with the legendary Martha Stewart. Obviously, DeGeneres has some questions about what must surely be a spectacular Christmas decoration display in his neighborhood. Reynolds sheepishly admitted he has no clue what he's doing when it comes to dazzling holiday decor, and joked he'd use "old spit" to decorate. However, Lively is apparently awesome at it. In fact, Reynolds revealed he hopes to one day create some sort of competition between his wife and Stewart for the holidays.
Ultimately, having children has made the holiday season (and life in general) so much more fun for the Deadpool star. When asked about Christmas time with his kids, Reynolds said,
I love it. It's really kind of made me a better person, I think. I sort of miss being horrible. It's hard. It's always a challenge, two kids. I think of blinking right now as tiny little breaks all day, but it's the dream. It's the best, they're my buddies. I love it.
Ugh, swoon.
You can catch the entire charming interview in the video below. Ryan and Blake, no baby pressure... but kind of.