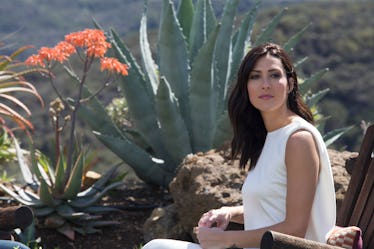 Becca Reveals Whether Or Not Her Ex-BF Ross Will Make An Appearance On 'The Bachelorette'
ABC/Paul Hebert
Remember that time when Becca Kufrin was just trying to enjoy Fantasy Suite bliss with Arie in Peru and then suddenly her ex-boyfriend showed up? Talk about awkward and uncomfortable. The Bachelor is known for throwing surprises into the mix, but it was pretty shocking to see a contestant get confronted by a former significant other trying to win her back (oh, and propose) while she was just days away from getting engaged to another guy. So, will Becca's ex Ross be on The Bachelorette this season? She might be allowing her former fiance to join her, but it looks like Ross won't be getting an invite.
Arie Luyendyk Jr., aka the dude that broke Becca's heart on national TV, will be making an appearance on The Bachelorette Season 14, whether the audience likes it or not. But the show isn't rolling out a welcome mat for Ross Jirgl. You may recall Becca's, um, displeased reaction when he crashed the party in Peru pleading for her to consider reigniting their old flame. Clearly over the situation and him, Becca swiftly sent Ross packing. "You live your life in a movie and you think it's gonna work out like The Notebook," she told him. Becca also reiterated her feelings via Twitter following the episode.
Now that Becca is the one in charge as leading lady of The Bachelorette, she's set to have a little sit-down with notorious Bachelor Arie during her season. Ross? Not so much. She weighed in Us Weekly as to why she won't be extending a request to chat publicly with him any time soon, despite the interest from fans:
Well, I would tell everyone to be careful what they wish for, because I think that they would be eating their words later on. But yeah, I don't want to feed any life into that relationship and I don't think anyone would want to see that either.
And it's not like Becca and Ross are in contact after the whole Bachelor debacle.
"You know, Ross was a chapter that I had closed before the show and I just don't want to give it anymore life but no, not more contact. Done and finished. Good riddance," she told EW in March of their communication status.
Ross clarified his reasoning for showing up unexpectedly, on TV no less, a year after their break-up. He revealed to The Athletic that even though he had the intention of attempting to get Becca back, he knew from the moment he saw her it wasn't going to happen:
The year that we were apart, I'd been carrying her in my thoughts and in my heart every single day,. It's kind of crazy to say, but I think it was going to take something big like this for me to actually be over her. … The way I look at it is, I flew to Peru during the busiest week of the year to go on a TV show, risking my reputation on national TV to get her back. When she said no, I could completely see it in her eyes.
Becca has clearly moved on from that relationship anyway. She accepted Arie's proposal (Bachelor Nation and pretty much anyone with an internet connection probably knows how that turned out) and now she's happily engaged again.
Still, Arie will get the opportunity to get some Becca closure for all the world to see.
"He makes a quick appearance. I'm not going to give anything away or when it happens, but it's a conversation that had to happen," Becca explained of his Bachelorette cameo.
Does this mean Arie might just pop in at a moment's notice? Please don't say he shows up during the Fantasy Suite episode like Ross... That's just not cool.
The Bachelorette airs at 8 p.m. ET Mondays on ABC.