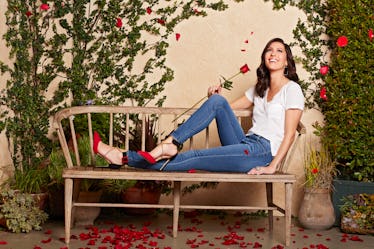 Becca Kufrin Reveals Whether Or Not She'll Be Watching This Dramatic Season Of 'Paradise'
ABC/Craig Sjodin
It seems that once someone is a part of the Bachelor family, they're in it for life. The unique reality TV experience is a bonding force that connects people and creates lasting friendships. Follow any recent contestant on social media and you'll see the photographic evidence. Becca's Bachelorette journey is about to come to an end, but it appears she isn't sick of the franchise just yet. Will Becca watch Bachelor in Paradise? You better believe that ABC has found a loyal viewer in their Season 14 leading lady.
Becca has plenty of reasons to tune in to Season 5 of BiP. She explained to Us Weekly at the "Men Tell All" taping last week:
I will a thousand percent watch... You know, all of my girlfriends are on it, so, of course, I need to watch and support them and cheer them on. And if they got back together and found love, then I would be happy for them because they both deserve that.
In addition to her pals and fellow competitors from Arie's season — Kendall, Annaliese, Chelsea, Bibiana, Krystal, and, er, Tia — a handful of Becca's Bachelorette exes are looking for love in Mexico. Earlier cast-offs Jordan, John, Joe, Connor, and Chris have all been announced as cast members. More recently eliminated suitors like Leo, Wills, and Colton might be more awkward to watch, since she connected with them on an even deeper level.
I completely understand why Becca would want to see the drama and romance unfold in Paradise. Bachelor Nation's eyes will certainly be on Tia and Colton when the series debuts — the talked-about pair was central to what went down on her season. Tia and Colton had a fling prior to his time on The Bachelorette and the pro-football player made it all the way to hometowns despite their past. Tia made an appearance that same week and confessed that she still had feelings for him, which ultimately affected Becca's decision to send him packing.
The intrigue that's already out there between these two creates the perfect set up. A promo for Bachelor in Paradise even shows Tia admitting that she went on the show "for Colton."
Colton recently teased to ET that his Mexico reunion with Tia was "very emotional."
"I think, you know, just coming out of a relationship with Becca [Kufrin], and I'm dealing with Tia at the same time, and I'm also on a beach with a bunch of beautiful women and some of my friends, so I wasn't expecting to feel the emotions that I felt," he explained.
"You're going to see a lot of things worked out in Paradise," Colton added.
Season 14's Bachelorette "Men Tell All" extravaganza airs this coming Monday, so perhaps fans will get more Paradise hints and relationship updates there.
If Becca's down to watch BiP, that's a good indication that she'll be viewing The Bachelor's next season too. Who does she want to see in the role?
"Jason [or] Colton would be great, I think a lot of the guys are charismatic and would be open to any person they met in a relationship and it would just be fun to watch," Becca revealed to Variety.
Bachelor in Paradise premieres Tuesday, August 7 on ABC.