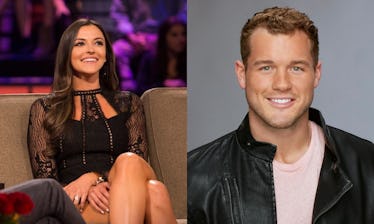 Colton Revealed New Details About His Reunion With Tia On 'Paradise' & I Can't Wait
ABC/Craig Sjodin/Paul Hebert
Almost Paradise, indeed. Get ready to sing along to that catchy theme, because ABC's Bachelor summer spinoff is just around the corner. Season 5 of Bachelor in Paradise premieres August 7 and the cast that's been announced so far couldn't make for juicier match-ups. Case in point: Tia and Colton. Tia spiced up Bachelorette Season 14 and the last time America saw her on TV, she was expressing her feelings for the Becca suitor right after his hometown date. So, what happens next? Apparently Tia and Colton's reunion on Paradise was "very emotional."
Colton himself is already teasing what viewers can expect when he and his former flame meet up in Mexico.
"Some things happen that I wasn't expecting to happen," he told ET, adding that it was "very emotional."
Colton and Tia had a brief fling prior to his official casting on Becca's season of The Bachelorette. The football player and Tia, who competed on Arie's Bachelor season and made it to the final four, cut things off when he decided to go on the show. Their situation became a recurring issue throughout Season 14 of The Bachelorette, especially considering Tia and Becca are friendly. Colton kept reiterating to Becca that the relationship was completely over and Tia even made a cameo where she echoed that attitude. Colton progressed all the way to hometowns week until Tia made a second, er, more impactful appearance. It was then she admitted to Becca that she really wasn't over him. Thus, Colton was sent home shortly after the revelation.
"I was actually blindsided. I was not expecting that at all," Colton explained of Tia's confession on Ben and Ashley I Almost Famous Podcast after his elimination aired.
Does he fault Tia for say what's on her mind? Nope — although he did admit he felt "frustrated."
"I'm not mad at Tia, because that's how she felt and I'm proud that she risked her friendship with Becca to come back and talk and speak her truth," Colton said. "But I am frustrated, and I am a little confused, because the last that I saw of Tia was at the spa date, when we all were on the same page, and she was wishing me well on my journey. It just didn't play out the way that I thought it was going to play out."
Colton and Tia initially met via Instagram, chatted long distance, spent a weekend together in Los Angeles back in January, and subsequently pumped the brakes on their relationship when Colton got word that he would one of the men vying for Becca's heart. Now their ongoing saga will unfold further on Paradise for all of Bachelor Nation to see. A recent promo for the upcoming season highlights the pair — Tia is even shown saying: "I'm going to Paradise just for Colton."
At this stage, that news probably doesn't surprise anyone.
Later in the clip, Colton are Tia are both shedding tears. Crying is as common as applying sunblock in Paradise, but I'm intrigued as to what leads these two to such a weepy point.
Bachelor in Paradise premeires Tuesday, August 7 on ABC.