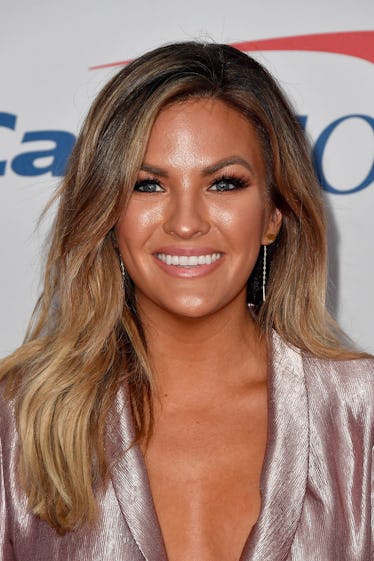 This 'Bachelor' Alum Could Be The Next 'Bachelorette' & We're Hoping She Is
Frazer Harrison/Getty Images Entertainment/Getty Images
Before the world met Becca Kufrin and Bekah Martinez, there was Bachelor runner-up Becca Tilley. (The name seems to almost rival Lauren in contestant popularity.) The bubbly beauty from Chris Soules' season has remained a fan favorite of Bachelor Nation's over the years since her stint on the show, so will Becca Tilley be the next Bachelorette? We are not ruling out the possibility.
You may remember Louisiana native Becca — Chris ended up choosing Whitney over her in the finale of Season 19. But a little heartbreak didn't stop her from getting back on the reality TV horse. She then got a second chance at love when she resurfaced on Season 20 to compete for Ben Higgins' heart, but he ultimately went on to propose to Lauren B.
Becca made a lasting impression on fans of the show, as well as her fellow cast mates. She just happens to be besties with former competitor JoJo Fletcher and has remained close with many other participants from the series — even Chris and Ben, her former on-screen flames. The goofy and adorable franchise darling is a natural pick for a Bachelorette spot. She just has to be open to the prized position... Becca recently told Bustle that although that ship has potentially sailed, she has a "never say never" policy when it comes to these things:
I like to say that I'm retired from the Bachelor world, but also if you would have asked me if I would have gone on a second season after Chris' season, I would have said no. I will never say never, but as of now, I enjoy watching it with my dinner in my lap on my couch.
We feel you, Becca. Dressing up in a gown for like two months straight, being isolated from family and friends, all while trying to choose your actual future husband from a group of over 25 men sounds way more stressful than watching reality TV (with food) from the comfort of your own home. But the people want they want. And Becca would make for an entertaining leading lady. "If they asked me, there would be several conversations before I committed to it. I'd have to be ready to put myself out there like that," she has additionally said of taking on the role.
Becca appears to be single at the moment. She started dating fellow franchise alum Robert Graham — who competed on Desiree Hartsock's Bachelorette season — in 2016, but they split up last summer.
"The reason that Robert and I aren't together is because I felt like I was really busy with work and traveling a lot so it wasn't a sense of like, 'Oh, I want to be free and date as many guys as possible.' It was more of me just wanting to take this time for myself and focus on me and what I'm doing," she told Us Weekly of the breakup.
Becca, a television super-fan of shows like Grey's Anatomy and Friends (just more relatable reasons to love her), has also been keeping busy by hosting her own pop culture and relationship podcast, Scrubbing In With Becca Tilley. Her website serves up travel advice, lifestyle inspiration, style and beauty tips, and more.
Many fans are speculating that Seinne, Tia, or one of Arie's final two could end up with the Bachelorette title. Although she's an excellent pick for the role, Becca has her own thought about who could be a solid choice. "I actually really enjoyed Bekah M, who was the one that was younger. Everyone made a big deal about her age. You know, I think she'd be good... Maybe give it a few years. I think Arie had a really good season of girls, so I think they could go a few routes and it would be a good decision," she revealed.
ABC surprised us all when they chose someone from the show's past a.k.a. Arie over a recent competitor for the latest Bachelor season, so you never know what could happen. We don't blame Becca for preferring viewer status over the pressure of being the Bachelorette, but we're guessing Bachelor Nation would welcome her small screen return with open arms if the time comes.