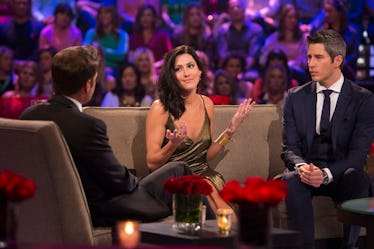 Becca Reveals If She'd Go To Arie & Lauren's Wedding & Her Answer Is So Surprising
ABC/Paul Hebert
Becca Kufrin and Arie Luyendyk Jr.'s relationship is... er, complicated. They got engaged, he subsequently broke her heart on live TV, and went on to propose to her Bachelor competitor (on live TV, again.) Now Becca's about to make her Bachelorette debut and Arie's prepping to tie the knot to Lauren Burnham this coming January. Will Becca go to Arie's wedding after all they've been through? Her thoughts on attending their nuptials might surprise you.
"I don't know if they'd invite me," Becca answered at a press conference, reported via People. "But, yeah, if they would want me there, I would want to share in their love because I truly do wish them nothing but happiness."
That's the spirit! Way to be the big person, Becca.
It's hard to imagine Arie's ex would snag an invite to their winter wedding. Arie and Lauren recently revealed that the affair is going to be more intimate and will not be televised, so Bachelor Nation won't be privy to the celebration either.
"It's not your typical beach wedding. It's so pretty. And it's a private wedding, so not on TV. Just a close group of friends. Probably 100 guests," Arie revealed on The View of the upcoming Maui ceremony. He and Lauren plan on saying "I do" on January 12 of 2019.
Arie previously mentioned that Becca would probably not land on his and Lauren's guest list.
"We've thrown a lot of ideas out there, but I think I would like to have some of my friends from the show there," Lauren told Us Weekly discussing if Bachelor alums might attend. "I think Arie would too."
"Yes, I wouldn't mind. And just tell Becca she's not invited," Arie added. Noted?
As far as who might actually be heading to Hawaii for Arie and Lauren's wedding, Lauren appears to have remained close to some of her fellow former Bach competitors. She posted a photo with Maquel (who left in week five of Season 22) in April, revealing they were planning a trip together over the summer.
Lauren also seems to have struck up a friendship with Jacqueline, a contestant you may recall left voluntarily in the seventh week of the Arie's season. The pals buddied up for a photo shoot and Jacqueline even expressed her support for Lauren (and Becca) following the dramatic finale. She wrote on Instagram on March 6:
So happy for Becca, who was strong, and sacrificing, and brave. And so happy for Lauren, who was self contained and elegant. We will never see the full extent of the beauty of every woman on this show, but I got a glimpse, and I hope that in this case, pain was balanced with promise. Becca will find her happy ending, and Lauren has found hers. Congratulations to both women. @laureneburnham , I'm looking out for you, and wish you every happiness.
Becca's Bachelorette season premieres on Monday, May 28 and host extraordinaire Chris Harrison is already making an argument for tuning in.
"It's such a great season. [Kufrin's] a great bachelorette, the guys are great, the drama's there, the tears, the ridiculous arguments. It's good, it's really good," he teased to ET.
Plus, Season 14's leading lady has already let out a major spoiler — she's engaged.
It was the happiest moment of my life. And it feels so good to say it. I still pinch myself, like, did that all just happen? It's been a whirlwind," Becca told People. At this point, you have to wonder: Would Arie be invited her wedding? Maybe she'll surprise everyone with that answer too.