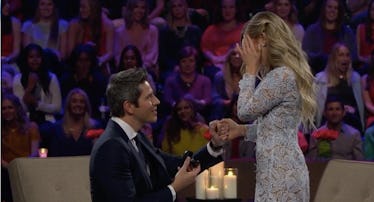 Bachelor' Arie & Lauren May Be Televising Their Wedding, So Get Your Popcorn Ready
ABC
The month of April started off a little rocky for The Bachelor Arie Luyendyk Jr. and his fiancée, Lauren Burnham. Their whole pretend-pregnancy-in-honor-of-April-Fool's-Day joke did not go over well on the internet, and the pair has been getting the wrath of Twitter users ever since. But instead of running for cover (TBH, who could blame them? That's totally what I would do), the couple is apparently seeking even more televised limelight. So will Arie & Lauren have a TV wedding? If the rumors are true, it looks like they may be back on ABC soon!
It's been about a month since Arie first proposed to Lauren during the two-night finale of The Bachelor, after first dumping her and proposing to Becca Kufrin. And now, according to E! News, multiple sources have claimed that the couple is in the planning stages of the wedding, and are hoping to film the festivities for TV.
"It's going to happen before the end of the year, if not sooner," a source told E! News. "They are still waiting to get confirmation from ABC for the TV special, and are heavily pushing for this... Nothing has been locked in yet until they get the green light from ABC."
Would this be a smart move for ABC? I feel like it's a pretty tough call. On the one hand, Arie was already one of the most controversial and disliked Bachelors in franchise history, thanks to his Becca-Lauren flip-flop in the finale. And the pregnancy-prank-gone-wrong has only made things worse. So, will people even want to tune in for a wedding spinoff special? It's definitely debatable. But on the other hand, I'm not gonna lie — while I may not be a huge Arie fan or even a shipper of these two as a couple, I have to admit that I'd probably hate-watch their walk down the aisle anyway.
#SorryNotSorry, guys. I've invested way too much time into this season to call it quits now. So yeah, I'm kinda hoping it happens. And it looks like it really just might. According to E! News, the pair is more than ready to make it official on camera.
"They are really, really happy to be together," the source said. "Lauren and Arie are moving fast. They want everything to happen quickly and show the world how real their love is."
If the televised wedding really does end up going down, Arie and Lauren will join a pretty big crew of Bachelor Nation couples who have tied the knot on TV: Catherine Giudici and Sean Lowe, Jason Lesnick and Molly Malaney, Ashley Hebert and J.P. Rosenbaum, Tanner Tolbert and Jade Roper, Evan Bass and Carly Waddell, and the OGs of the group: Trista and Ryan Sutter, whose 2003 nuptials were the first to ever appear on ABC.
In the meantime, E! News reports that the two are busy researching several venues for their wedding. "They have visited both sides of their families and have been spending a majority of their time in Arizona," the source said. "They are both attached at the hip and inseparable. They are completely in love and are really excited about their future."
You know what I'm really excited for? Arie to bust out a pair of white gloves and a top hat so we can get a repeat of this glorious moment:
Then again, if Lauren decides to carry a bowling ball down the aisle, I'd happily settle for a repeat of his bizarre attempt to re-enact The Big Lebowski.
Ugh. On second thought, that was actually pretty disgusting... so I take it back.