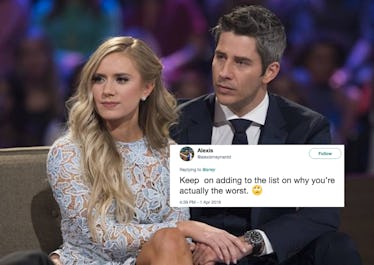 Arie Luyendyk Jr. & Lauren Burnham's April Fools' Day Prank Is Getting Major Backlash – UPDATE
ABC/Twitter
April Fools' Day has come and gone, and I don't know about you guys, but I definitely fell for a lot of pranks. I'm not proud. Not a bit. One prank I didn't fall for, though, was Arie Luyendyk Jr. and Lauren Burnham's. The newly (and controversially) engaged couple made an April Fools' joke on Twitter that didn't sit well with a lot of users. If you didn't realize this was an April Fools' prank, you'd ask: Is Lauren B. pregnant? But no, she's not pregnant, and Luyendyk's tweet teasing that she is was just a joke. Elite Daily reached out to Luyendyk and Burnham's teams for comment, but did not hear back by the time of publication.
UPDATE: Arie Luyendyk Jr. apologized for his April Fools' Day joke in a tweet posted on April 2. He said, "I do have sympathy for women struggling from infertility. My April Fools prank was in no way meant to offend women who struggle with that. I apologize if you were effected personally by my post."
EARLIER: Luyendyk took to Twitter on Sunday, April 1, and tweeted a photo of a blonde pregnant woman. You can't see the woman's face in the photo, but she could pass as Burnham at first glance. His is tweet read, "Secrets out, we have a bunny in the oven!" A little over an hour later, he responded to his own tweet saying, "APRIL FOOLS!" Good one, Arie. Never seen that one before... People are calling Luyendyk's joke insensitive because there are so many women who struggle with infertility. Fans think this April Fools' joke is tired, and women struggling with getting pregnant say time and again that the joke is offensive. I guess some people just don't get the hint.
Luyendyk tweeted this photo of what appears to be a completely random woman to Twitter on April 1.
Not many people bought it, as it was April Fools' Day and this joke is seriously overdone, but Luyendyk and Burnham let the tweet linger for a little before revealing it was a joke.
People are angry at Luyendyk for posting the tweet.
People responded to the tweet saying things like, "If this is a joke, it's very poor taste. But you don't have a good track record on decision making," "That is THE worst thing to joke about when so many people are unable to conceive or have miscarried," and "False pregnancy jokes are not funny." One user said, "Shame on y'all for this. So many women are trying everything they can to conceive and then you joke about this? It's just really in poor taste.. A 'we eloped' photo would have been much more appropriate." Fans think saying they eloped would've been a much better April Fools' prank than pretending to be expecting.
Lots of people are saying this is just more proof of how much Luyendyk is lacking in self-awareness.
It's a pretty spot-on analysis of the guy who thought it would be a good idea to film his breakup with ex-fiancée Becca Kufrin and air the unedited footage on live television.
After the controversial Bachelor finale made Luyendyk one of the most hated Bachelors in the franchise's history, Luyendyk tried to do some backtracking to save face by saying he filmed the breakup with Kufrin in order to up her chances of being chosen as the next Bachelorette.
In an interview with Good Morning America following the finale, Luyendyk tried to convince viewers that he filmed the breakup in order to help Kufrin. "For me," he said, "I really wanted everyone to know this was on me. I felt like filming that would let people know that." However, an ABC exec told Entertainment Tonight that Luyendyk was not forced to film the breakup. Luyendyk then told Good Morning America that he felt filming the breakup and airing the unedited footage would give Kufrin the "opportunity" to become the show's next Bachelorette.
Becca Kufrin responded to Luyendyk's claims in an interview with Entertainment Tonight. "Well, that's news to me!" Kufrin said. "I don't think he ever expected me to be [the Bachelorette], or how everything played out, so that's his side. I don't know." Between the breakup, how he handled the frenzy after the breakup, and this insensitive April Fools' prank, I think it's pretty clear that this dude seriously doesn't know how to read a room.