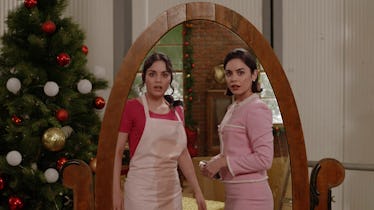 Vanessa Hudgens Has A Big Idea For 'A Princess Switch' Sequel & It Involves "A Third Twin"
Netflix
A true Netflix Christmas season just isn't complete without a visit to a fictional kingdom and subsequently falling in love with a prince just in time for the holidays. While this best case scenario leads to something along the lines of Nov. 30's A Christmas Prince: The Royal Wedding, Vanessa Hudgens played both royalty and common folk in Netflix's The Princess Switch. Both of her characters found their happily ever afters, but will a Princess Switch sequel happen? While it definitely won't involve another royal wedding, Vanessa Hudgens has an idea about what a second movie could bring.
After playing both Chicago baker Stacy and Belgravia nobility Lady Margaret, Hudgens spoke to Glamour about how the two women could come together in a follow-up film. She told the magazine:
I honestly don't even know where [a sequel] would go, because we already got our happy endings. We'd have to create more conflict, or maybe there would be a third twin. Spruce things up a little bit. I have no idea. I'm going to leave that one up to the writers, but I know that I had so much fun doing it. The characters are so sweet that I would definitely be on board [for a sequel].
The Princess Switch introduced Stacy's journey to Belgravia for a Christmas baking competition, but her plans changed when she ran into the scarily identical Lady Margaret at the contest's TV studio. Days away from marrying Prince Edward (Sam Palladio), Margaret convinced Stacy to switch places with her before the wedding so she could experience a brief taste of the normal world. While Stacy began to fall for Edward, Margaret developed feelings for Stacy's co-worker Kevin (Nick Sagar). As with all movie switcheroos, the truth eventually spilled out, and both women settled down with their true loves.
So, what are the chances of the existence of a third identical woman who also isn't related to Stacy and Margaret? If Hudgens' idea made it into a sequel, I fully expect a genealogist to make a cameo and explain this odd act of nature.
Seen in both The Princess Switch and A Christmas Prince, regular gals falling in love with royalty is an irresistible trend nowadays. We have the Duchess formerly known as Meghan Markle to thank for that, and Hudgens even looked toward Markle for character inspiration. While sitting through hair and makeup sessions before playing Stacy, Hudgens watched Markle's wedding to Prince Harry, telling Glamour, "I got to kind of put myself in her shoes and see what that would look like for me as an actual reality."
I would love an excuse to pretend to be Meghan Markle, so kudos to Hudgens for getting to live out that fantasy. A surprise triplet in The Princess Switch 2 might be a little far-fetched, but perhaps Stacy could strike up a pen pal relationship with the Duchess of Sussex in a sequel. Who else could relate to having such a magical royal romance?
The Princess Switch is currently streaming on Netflix.