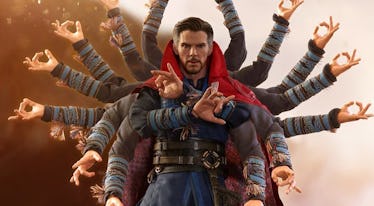 Marvel Confirms A 'Doctor Strange' Sequel Is In The Works & My Day Just Got Better
Marvel
The next phase of the Marvel Cinematic Universe is going to include a second helping of ancient mystical arts. Fans have been wondering will a Doctor Strange sequel happen ever since the first movie came out in 2016, but the ending of this year's Avengers: Infinity War left many viewers confused about whether that was still a possibility. Well, worry no more, because Marvel Studios president Kevin Feige just confirmed that a second Doctor Strange movie is being planned.
In a recent interview with CinemaBlend, Kevin Feige let it slip that Marvel is definitely going to make another Doctor Strange movie. Feige spoke about how the tentpole, Avengers team-up movies allow heroes who have been off the screen for a while to get some airtime, and brought up Doctor Strange as an example. Apparently, Marvel is not planning on releasing a Doctor Strange sequel for quite some time, which is why they were happy to make the character a major part of Infinity War. Although Feige did warn that another Doctor Strange movie won't hit screens for "a number of years," he did confirm that a sequel is a sure thing:
Sometimes it's where do those characters pop up? [Doctor] Strange, you know, whenever we do another Strange [movie], which we will do, it will be a number of years from the first Strange, and yet he's a very big part of Infinity War. So it is just a good problem to have when you have too many beloved characters that people want to see more of, whilst keeping to our core belief that we need to keep exploring nuance and keep doing different types of things.
With that, Doctor Strange joins the short list of confirmed sequels in the upcoming phase of Marvel Cinematic Universe movie, which is being colloquially referred to as Phase 4. This new phase will begin after next summer's Avengers 4, which will be the second part of this year's Avengers: Infinity War. Following the next Avengers movie, the Spider-Man sequel Spider-Man: Far From Home will debut on July 5, 2019, followed by Guardians of the Galaxy Vol. 3 in 2020. Feige also confirmed that a Black Panther sequel is in the works. From how Feige described the Doctor Strange treatment, though, it sounds like that sequel will probably be the last of the announced bunch.
As Marvel fans know, Doctor Strange's fate is kind of in flux right now after the events of Avengers: Infinity War. The movie ended with half of the Marvel superheroes turning to dust once Thanos used the Infinity Stones to wipe out half of all life in the universe, but fans are pretty confident that the dusted heroes will come back to life in Avengers 4. After all, a bunch of the disappeared characters are confirmed for sequels after Avengers 4, and there are a bunch of theories about what could have actually happened to the disintegrated heroes. One important detail seems to be Doctor Strange sharing he had foreseen the outcome of their fight with Thanos and spurred along the deadly finger-snap as some way to actually save the world. There is another theory that the disappeared heroes are not really gone, but contained within the Soul Stone.
However he is saved, it seems especially clear now that Doctor Strange is going to be back and primed for another solo movie after the events of Avengers 4. Since the upcoming Avengers film will focus largely on the Marvel movies' original lineup of heroes (Iron Man, Captain America, Hulk, Thor, Black Widow, and Hawkeye), there's a lot of speculation that the original Avengers will hand over the torch to the newer batch of heroes at the end of the movie, leaving the franchise to Spider-Man, Doctor Strange, Ant-Man, Captain Marvel, Black Panther, and the Guardians of the Galaxy.
Look out for a new Doctor Strange movie in the next few years!