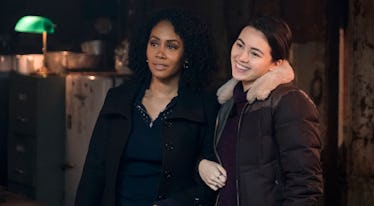 'Iron Fist' Season 2 Teases The Possibility Of A New Marvel Series
Netflix
Netflix may have its next Marvel show, or at least that is definitely what Iron Fist Season 2 made it seem like. As the new season progressed it became clear just how invested Marvel and Netflix have become in the friendship between hard-boiled detective Misty Knight and martial arts expert Colleen Wing, which is leading viewers to wonder: Will a Daughters of the Dragon spinoff happen? After The Defenders, Luke Cage Season 2, and now Iron Fist Season 2 have all prominently featured Misty and Colleen's relationship, it just feels like a show focused on their superhero team must be in talks.
Spoiler alert: This post contains spoilers for Season 2 of Iron Fist. Throughout the new season of Iron Fist, we get plenty of scenes of Colleen Wing bonding with Misty Knight, which remain one of the constant threads from each of the last three Marvel Netflix showings. The two first met in The Defenders, where they very quickly grew to trust and respect one another after Colleen saved Misty's life, and then we saw Colleen become Misty's closest friend and mentor as she helped the detective through rehabilitation after losing her arm. This close bond continues to grow in Iron Fist Season 2, as Misty and Colleen joke around with one another on a stakeout, and Misty later gives Colleen some sage advice that leads the martial arts expert to agree to accept the power of the Iron Fist.
But it is the finale episode of Iron Fist Season 2 that really seems to hammer home the possibility of a Daughters of the Dragon spinoff. As Misty prepares to return to Harlem, she says that she and Colleen should team up again — "Knight and Wing. It has a ring to it." That is a clear reference to Nightwing Restorations, the name of the private investigations firm that Misty and Colleen run in the Marvel comics.
Misty Knight even hints at what a possible Daughters of the Dragon team-up could focus on when she says that she does not like what she is seeing in Luke Cage (who recently turned to the dark side in the Luke Cage Season 2 finale), and now that Colleen Wing has the power of the Iron Fist, she may be able to put a dent in him.
Speculation about a Daughters of the Dragon spinoff series has been building since The Defenders first premiered, but the Iron Fist Season 2 finale seems like the clearest sign yet that it may be in the cards. Misty Knight actress Simone Missick even spoke about her ideas for a spinoff focused on Misty and Colleen to Inverse after Luke Cage Season 2 aired:
Jessica [Henwick] and I are very similar in the way we look at storytelling for women, for women of color, making sure that the narrative is authentic. I think the two of us would make sure that we tell stories that are culturally and politically relevant in this time period right now.
It all sounds great, but nothing is official yet. Still, it looks like there is definitely hope for a Daughters of the Dragon series actually happening soon!