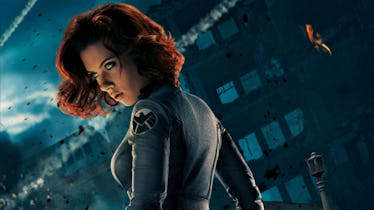 Marvel Just Took One Step Closer To Making That 'Black Widow' Movie We All Want
Marvel
Marvel fans have been clamoring for a standalone flick for Black Widow since she first appeared in the cinematic universe in 2010's Iron Man 2, and now it sounds like there's a pretty good chance that it could really happen. There have been rumblings about a solo movie for Black Widow among fans and even from within the Marvel camp for a while now, but no official news that could confirm the film was actually taking steps toward getting made until now. It led fans to wonder will a Black Widow movie happen, but now we finally have some heartening news: Marvel just hired a screenwriter to get to work on a Black Widow standalone.
On Wednesday night, news broke that Marvel has brought on screenwriter Jac Schaeffer to get to work on a Black Widow script. This is the first bit of official news about a Black Widow standalone movie moving forward in development, although Variety's sources did clarify that this does not ensure the movie will get made — it's still in very early stages and has yet to be greenlit. But this is still really exciting news for Marvel fans, since it confirms that the superhero studio is indeed seriously exploring the option of giving Natasha Romonoff her own feature film. Apparently, Marvel president Kevin Feige has been meeting with several writers and worked with Scarlett Johansson for a while to select Jac Schaeffer as the Black Widow scribe.
Jac Schaeffer is best know for her work with Anne Hathaway recently, writing the script for the Hathaway-starring Dirty Rotten Scoundrels remake Nasty Women, and attracting Hathaway to direct and star in her Black List comedy The Shower. Her other major directing project was 2009's sci-fi romance TiMER.
Although Jac Schaeffer's hiring is the first official step towards the Marvel Cinematic Universe producing a Black Widow movie, the studio has talked about their commitment to wanting a standalone for the only female member of the on-screen Avengers team (pre-Scarlet Witch) for a while now. In the summer of 2016, Marvel president Kevin Feige told Deadline that the studio is very interested in giving Black Widow her own movie.
Of the characters that you've just mentioned [NOTE: the interviewer had asked about Falcon, War Machine, Hawkeye, and Black Widow] I would say certainly the one creatively and emotionally that we are most committing to doing is Black Widow... We think she's an amazing character. We think Scarlett Johansson's portrayal of her is amazing. She's a lead Avenger and has amazing stories in her own right to tell that we think would be fun to turn into a standalone franchise.
As Kevin Feige pointed out, Natasha Romanoff's character is ripe for a solo movie, since so much about her backstory and personal life is still unknown to movie fans even after appearing in six Marvel films. Romanoff was once a Soviet spy, but later joined Nick Fury's agency S.H.I.E.L.D. as part of the Avengers. Although she doesn't have any apparent superpowers, Black Widow has proven herself to be one of the most fearsome and capable Avengers time and again thanks to her skill in martial arts and espionage tactics.
Black Widow will next appear in this summer's Avengers: Infinity War, but then fans might have to wait a bit for this possible solo movie for her. As I already mentioned, Marvel still hasn't greenlit Black Widow yet... oh, and it still hasn't even been written. On top of that, Marvel has a few other movies it is planning to release first — Ant-Man and the Wasp and Captain Marvel are already slated to come out after Infinity War. But still, Marvel fans should be pumped that Black Widow is slowly but surely coming along.