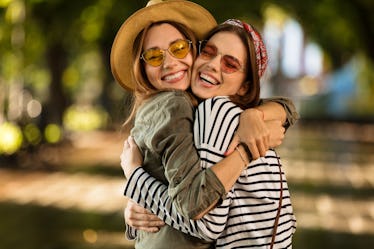 Why Your Sister Will Always Be Your Number One Friend & Fan
When it comes down to deciding who your best friend for life is, there really is no competition when you have a sister. She has been filling that role like a boss since day one. Sure, you had the luxury of growing up together in the same household that most best friends don't have, but there's so much more as to why your sister is your number one friend and fan.
At any sporting event, you want the loudest fan in your corner, and that's clearly your sis. She was there when you graduated high school and college, and now cheers you on through every job promotion and major milestone in your 20s. (Seriously though, who's better than her?)
Additionally, a true fan is ready to lend a helping hand when there's an obstacle in your way— and your sister is always right there beside you, no matter what. She's your best friend, confidant, truest fan, and partner-in-crime all in one, and you really wouldn't have it any other way. So, get a cute throwback pic together and dedicate an entire Instagram post to your sister, because she deserves all the recognition. Here's why she'll forever be your number one girl.