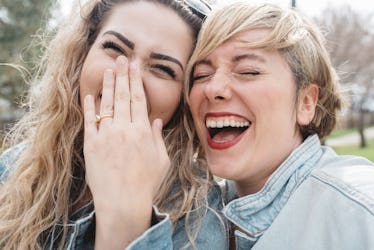 10 Questions You Never Have To Ask Your Sister, Because You Already Know The Answers
Trust me, there's nothing stronger in the world than the bond between two sisters who are also best friends. You're the ultimate duo: You've been there for each other since day one, and know your sister like the back of your hand. It can get kind of freaky how close you are, and oftentimes, I truly believe magic is real when I'm with my sister. If you're blessed with an awesome sister of your own, you've probably thought about putting "mind reading" as a skill on your resume. There are more than a few questions you never have to ask your sister, because you already know the answers.
It makes sense that you'd be really close having grown up together and sharing the same DNA. However, it still gets me every time when I'm about to say I'm hungry, and my sister is already suggesting that we go to my favorite restaurant for dinner. It's like I don't have to say anything in order to have the best day ever, as long as she's around.
Sure, you could go ahead and ask your sister these 10 questions if you're being polite, but you already know what she's about to say. Now, if only we could figure out a way to use these sisterly powers to win the lottery, because I already know what my sister and I would buy.