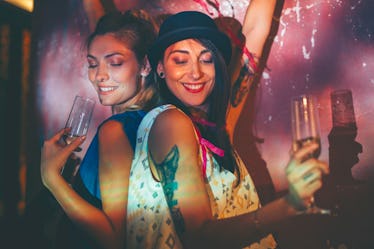 5 Underrated Reasons Why You Should Definitely Recruit Your Sis As Your Wingwoman
There isn't anything better than a sister who doubles as your real-life best friend. For the longest time while growing up, I never really believed my sister and I would be close. We spent most of our time fighting about pretty much everything — from crushes and who stole whose clothes, to who called dibs on the desktop computer (you know the drill). But when we entered high school, something just changed. We started to, well, click. It was like waking up and realizing you actually had a built-in BFF who knew you better than anyone else in the world. If you have a sister, I'm sure you know the feeling. Things are just so much better when you're experiencing them together, so you may already know why your sister is the best wingwoman you'll ever have. And if you don't — I'm here to help a girl out.
Besides being all kinds of goofy together, you guys know the truth — the two of you together is way better than the two of you apart. This mentality applies to so many aspects of life, so who's to say it won't make you each other's number one wingwoman, too? It's worth a shot. Your sister is bound to be your best wingwoman, and here are five solid reasons why.