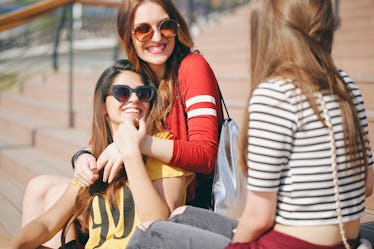 Why Your Cousin Squad Is Better Than Any Other Friend Group You'll Ever Have
Finding genuine, loyal friends to make up your girl crew can be one of the most difficult tasks. But if you happen to have a bunch of cousins you love, then consider it mission complete. No matter how many different groups you're part of, your family always comes in first. That's why your cousins are better than any other friend group you'll have in life.
It's true that you don't need to share blood to be soul sisters, but there's no denying that the connection between you and your cousins is something unique. They've been there since day one, and they will continue to be your friends 'til the end. You have that commitment to each other, in addition to these nine reasons why your cousins are the real MVPs. They even check off every box of what the perfect squad should be (plus a few bonus qualities that only family members posses).
I've relied on my cousin crew to get me through so many highs and lows. I know they made every Thanksgiving and Christmas a million times better, and I only survived family reunions because of them. Even though they live far away, I can count on them for anything, and that's why cousins are the best friends you'll ever have.