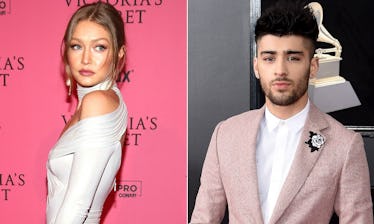 Gigi Hadid Was Flawless AF At The VS Fashion Show, But Was Zayn There To See Her?
Astrid Stawiarz/Getty Images; Jamie McCarthy/Getty Images
Are you ready for the 2018 Victoria's Secret Fashion Show? I am, and I have my glittery push-up bra on to prove it. The show was taped in New York City on Nov. 8 and will air on ABC on Dec. 2. — meaning we're super close to watching the models glide down the runway with their angel wings on. Fortunately for us, we know that Gigi Hadid walked in the show, but many fans are wondering if her boyfriend was there to show his support. Unfortunately, it looks like he wasn't in the audience, which is a real bummer. So, why wasn't Zayn Malik at the 2018 Victoria's Secret Fashion Show?
While we got to watch Gigi Hadid ~werk~ that VS runway, we missed seeing her on-again, off-again boyfriend cheer her on. Zayn Malik wasn't spotted in the audience, so it appears that he wasn't at the Victoria's Secret Fashion Show this year. Maliks social media accounts were quiet, too, meaning he didn't post anything about attending to his Instagram Story or any other social media platforms. But hey, The Weeknd was there to support girlfriend Bella Hadid (aka, Gigi's sister), so she still had plenty of people cheering her on, even if her boyfriend couldn't make it. There's no telling why Zayn didn't make the show currently, but there's a good chance he was just busy. He is an international pop star, after all.
Regardless of whether or not he was there, though, I think it should be noted that Malik told The Evening Standard that he credits Victoria's Secret for introducing the couple. After meeting at a Victoria's Secret party, Malik recognized Hadid "from her picture" and eventually asked her out, which is all sorts of adorable.
Zayn Malik aside (no offense, Zayn), all I was really pumped for was to watch Gigi once more. Days before the taping of the 2018 Victoria's Secret Fashion Show, the official Victoria's Secret Instagram account uploaded video of a few of their Angels walking around New York City, along with the announcement that the show will be airing on Dec. 2. The caption that went along with the video also revealed that we'd be seeing a few of our favorite famous faces again, too. The caption read, "MARK YOUR CALENDARS! The #VSFashionShow will air Sunday, Dec. 2. See the Angels in action (and yes… @kendalljenner, @gigihadid & @bellahadid, too!)":
This was pretty great news, considering Gigi Hadid didn't walk in the Victoria's Secret Fashion Show back in 2017 after she previously confirmed that she would be walking. On Aug. 28, Hadid posted a video clip from her 2016 VS Fashion Show fitting with a caption that read,
Forever and ever and ever a dream come true to be asked back to the VS Show !!! Thank you my friends @ed_razek @10magazine @johndavidpfeiffer @monica.mitro for another unforgettable opportunity; every aspect makes me feel like a dreaming kid again (as shown here at last year's fitting, by @jeromeduran)! ☁️ @victoriassecret#VSFS2017
Sadly, on Nov. 16, Hadid took to Twitter to tell her fans that she would not be participating in the show. The tweet said,
I'm so bummed I won't be able to make it to China this year. Love my VS family, and will be with all my girls in spirit!! Can't wait to tune in with everyone to see the beautiful show I know it will be, and already can't wait for next year! :) x
Let's all just be thankful that Gigi is back on the runway, even if her main squeeze was MIA, ok? OK.