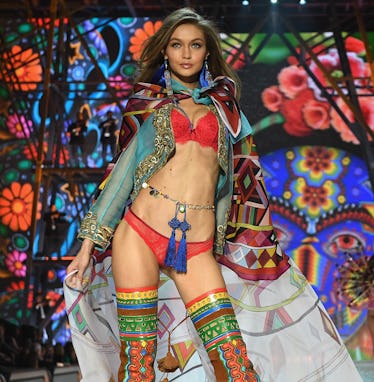 Here's What We Know About Whether Gigi Hadid Will Walk In The VS Fashion Show With Bella
Dimitrios Kambouris/Getty Images Entertainment/Getty Images
Dust off your finest rhinestone bras, people, because the 2018 Victoria's Secret Fashion Show is coming our way at full speed. The highly anticipated show will be taped in New York City on Nov. 8 and will air on ABC on Dec. 2., and I for one couldn't be more excited. I love watching all of the ladies ~werk it~ on the runway, and there are some models that I'm happy to see back in their angel wings, as well as some newcomers, too. But there's one model in particular that I've been wondering about, and that's our girl Gigi Hadid. So, is Gigi Hadid in the 2018 Victoria's Secret Fashion Show? Fortunately, it looks like she'll be back on the catwalk once more for Victoria's Secret, so let me fill you in on the evidence.
Just days before the taping of the 2018 Victoria's Secret Fashion Show, the official Victoria's Secret Instagram account debuted a video of a few Angels walking around New York City looking beyond fierce, announcing that the show will be airing on Dec. 2, but it was the caption that made me jump for joy. The caption read, "MARK YOUR CALENDARS! The #VSFashionShow will air Sunday, Dec. 2. See the Angels in action (and yes… @kendalljenner, @gigihadid & @bellahadid, too!)":
You hear that, world? Not only is Gigi Hadid going to be walking the runway, but so is her sister, Bella Hadid, and Keeping Up With The Kardashians star Kendall Jenner as well! What did we do to deserve such wonderful news?
You'll remember that Gigi Hadid didn't walk in the Victoria's Secret Fashion Show back in 2017, which bummed out many fans who have been following the model's Victoria' Secret career since 2015.
On Nov. 16, Hadid took to Twitter to tell her fans that she would not be participating in the show. The tweet said,
I'm so bummed I won't be able to make it to China this year. Love my VS family, and will be with all my girls in spirit!! Can't wait to tune in with everyone to see the beautiful show I know it will be, and already can't wait for next year! :) x
Many fans were surprised about the news, considering Hadid was already confirmed to walk in the runway show. On Aug. 28, the model posted a photo from her 2016 VS Fashion Show fitting with a caption that seemingly confirmed she was going to participate. The caption read,
Forever and ever and ever a dream come true to be asked back to the VS Show !!! Thank you my friends @ed_razek @10magazine @johndavidpfeiffer @monica.mitro for another unforgettable opportunity; every aspect makes me feel like a dreaming kid again (as shown here at last year's fitting, by @jeromeduran)! ☁️ @victoriassecret#VSFS2017
But Hadid reportedly wasn't the only model who was supposed to walk but ultimately couldn't attend, and it was reportedly because they couldn't get their Chinese visas approved in time (though, Hadid has never confirmed that this was the reason why she missed the show).
Whatever the case may be, it's exciting to know that Gigi Hadid will be back in her Angel wings once more and we can watch her and her sister strut their stuff as they were seemingly born to do.
Best of luck to all of our Angels!