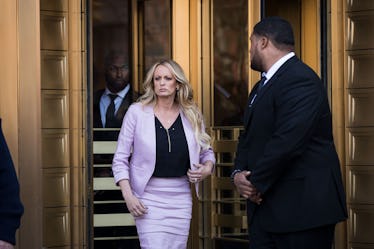 Stormy Daniels Was Arrested, But Not For A Reason You Might Expect
Drew Angerer/Getty Images News/Getty Images
In the early hours of Thursday, July 12, adult film actress Stormy Daniels was arrested in Ohio. While Daniels, who was born Stephanie Clifford, has been in the public eye because of a legal battle she is fighting against President Donald Trump, her Wednesday night arrest was only marginally related to the man in the White House. The reason why Daniels was arrested goes back to state laws in Ohio around strip clubs.
UPDATE: The charges against Daniels were dropped on Thursday afternoon. According to Columbus City attorney Zach Klein, after the charges were reviewed, he "determined that these crimes were not committed, based on the fact that Ms. Clifford has not made regular appearances at this establishment as required under the law."
EARLIER: In a statement released on Twitter on Thursday, July 12, the Columbus Police Department said that three arrests were made at Club Sirens in Columbus "as part of a long-term investigation into allegations of human trafficking, prostitution, along with other vice related violations." Daniels, along with two Ohio women, "were charged with Illegal Sexually Oriented Activity in a Sexually Oriented Business," per the department, while Daniels herself "received a total of three counts of the same violation for illegally touching three different undercover Vice detectives."
Elite Daily's calls to Club Sirens went unanswered.
In a series of tweets early on Thursday, Daniels' lawyer, Michael Avenatti, said that they "will vehemently contest all charges," adding that she "will issue a plea of 'Not Guilty' to the three misdemeanor charges."
Ohio state law states,
No employee who regularly appears nude or seminude on the premises of a sexually oriented business, while on the premises of that sexually oriented business and while nude or seminude, shall knowingly touch a patron who is not a member of the employee's immediate family or another employee who is not a member of the employee's immediate family or the clothing of a patron who is not a member of the employee's immediate family or another employee who is not a member of the employee's immediate family or allow a patron who is not a member of the employee's immediate family or another employee who is not a member of the employee's immediate family to touch the employee or the clothing of the employee.
Daniels was in Columbus this week as part of her ongoing strip club tour. She has been appearing at strip clubs around the country for her Make America Horny Again tour, which kicked off shortly after her name became a news item at the start of this year.
In a statement posted on Twitter by Avenatti, Daniels said,
As a result of what happened last night, I will unfortunately be unable to go forward with tonight's scheduled performance. I deeply apologize to my fans in Columbus.
Avenatti also said in his tweets that the arrest "was a setup & politically motivated." In his tweets, he used the hashtag "basta," which is Italian for "enough."
"Since last fall, Columbus Police were made aware of illegal activity through various adult entertainment clubs throughout the city," the police department said in their statement posted to Twitter. "Columbus Police have made numerous arrests utilizing this law. The Division engages in these operations routinely with no effect on our other calls for service."
According to the BBC, Daniels posted a bail just over $6,000, and she is scheduled to have an arraignment on Friday.
In his tweets, Avenatti said Daniels was arrested while "performing the same act she has performed across the nation at nearly a hundred strip clubs." Indeed, her previous stops on the Make American Horny Again tour have featured audience members being permitted to touch Daniels. Just two days before the arrest, reviewing Daniels' tour stop at a D.C. strip club, Washingtonian reporter Amanda Whiting wrote that the feel of Daniels' "breasts against your cheek is like diving head first into a velveteen ball pit." This description appears similar to what Columbus police described as their reason for arresting Daniels, although their report was somewhat lacking in flowery description.
Daniels was launched into the spotlight this year after claiming that Donald Trump, through his lawyer, Michael Cohen, had paid her $130,000 just before the election to stay quiet about an alleged affair she had with him years earlier. Trump has denied the affair, and Cohen and Trump have acknowledged the payment, although they both have said it had nothing to do with the election. Cohen is currently under federal investigation for other charges.