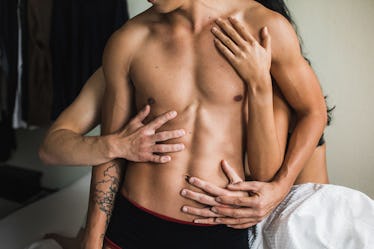 Experts Say Bringing A Third Person Into The Bedroom Is Good For Your Sex Life, Here's Why
I wouldn't say I'm the most adventurous girl when it comes to sex. I'm open to trying a good amount of things once, and then never again if it wasn't for me. When it comes to threesomes, I don't think I'm cut out. I'm super possessive of the people I date, so as fun as threesomes seem to be, I could never share my partner in any way — especially not in the bedroom. However, according to an expert, there are several reasons why threesomes are good for your sex life.
A survey of more than 4,000 Americans conducted by Kinsey Institute sex researcher Dr. Justin Lehmiller found that the most common sexual fantasy across the country is a threesome. This fantasy was closely followed by BDSM, and what Lehmiller calls "novelty, adventure and variety," which refers to trying new things, like new positions or sex in new settings. (Now that, I can get behind 100 percent.)
I totally see the appeal of a threesome, though. You get to experience having sex with someone else in addition to your partner, and then after, you and bae can get back to being exclusive in every other area of your relationship. But to get an even more in-depth explanation on the appeal of a threesome, I talked to certified sex therapist Kristin Marie Bennion.
"There are likely many reasons threesomes and group sex are the most common sexual fantasy," Bennion says. "Since the majority fantasize about being the center of attention, one could conclude that many find it erotic and validating to feel desired by more than one person. It can also be quite exciting for some to imagine a sexual experience with multiple people and fantasizing about experiencing maximum stimulation or sensory overload."
Bennion advises proceeding down the threesome route with caution, because while it can certainly spice up your sex life, it doesn't come without its downsides.
"A certain degree of planning is necessary to cover enough bases in order to have a successful experience, and this is particularly important if one is in a committed relationship," she explains. "Setting parameters for what is and isn't OK is a crucial part of the process for these folks."
Like with most things in relationships and sex, what works for one person may not work for someone else. The same goes for threesomes. Some people feel it adds to their sex life, but others can feel it makes no difference.
"Those that report that threesomes have added to their sex life often report that they experience more excitement and variety in their sexual experiences than they previously did," Bennion says. "Others report a stronger connection with their primary partner due to having gotten really good at negotiating desires and having such exciting experiences together."
But threesomes aren't the only thing that can add variety to your sex life. Bennion says that if group sex just isn't your thing (and there's no shame in that), some folks "enjoy role playing or talking about their desires with their partner as part of their erotic play. Some other common ways of adding spice to your sex life includes using toys, sexting, having sex in different places, and so many more!"
If even the thought of a threesome makes your skin crawl, you don't have to cave, even if your partner really wants to. There will be plenty of things that you want to do that they might not want to, and that's normal in any relationship. But, if you're not completely opposed, and in light of the good a threesome can do to your sex life, maybe consider pushing your boundaries and trying it once. Who knows? Maybe you'll like it and want to do it again. Happy sexing, my friends.
Check out the "Best of Elite Daily" stream in the Bustle App for more stories just like this!