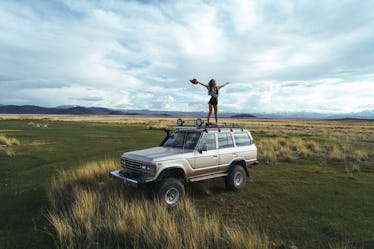 Why Taking A Road Trip By Yourself Will Make You Feel Like A Real Adult
A road trip is always a good idea. Seriously, there's no better way to explore a new land. Road trips allow you to tap into your inner nostalgia, be completely spontaneous, and embrace your curiosity about the world. The best part is that you can do whatever you want on your own schedule, especially if you go solo. You could hit the road for a day, or drive for months on end. You can visit one destination, or stop in multiple states. The bottom line is that there's no right or wrong way to embark on an unforgettable road trip, but I will tell you first-hand that taking a road trip by yourself will make you feel like a real adult.
Traveling with friends is really awesome, but there's a lot of freedom in traveling solo. There's even more freedom in road tripping solo. You can forget about coordinating with everyone's schedules, in addition to the difficult logistics of navigating the airport and understanding local transportation. Instead, you can simply wake up, pack your things, jump in the car, and go.
I took my first solo road trip to Austin, Texas after graduating college. I was living in this new city all by myself after graduating, and I wanted to travel on my own terms. This trip really helped me grow up. It empowered me to continue traveling solo, and I think it's something everyone should try at least once.