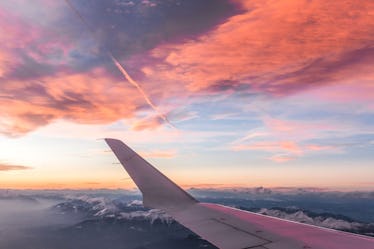 The First Craft Beer Airline In The World Is Here & I've Never Been This Hoppy
Shoutout to my fellow craft beer lovers out there: Your most brew-tiful dreams are about to become reality. Are you ready? Because it's time for takeoff. Picture this: The plane soars into the sky, leaving the city lights behind for front row seats to endless cotton candy-colored clouds. Of course, a true traveler like you has her in-flight playlist prepped, and Summer Fridays Jet Lag Mask ready to get the job done. Your mind wanders to the cocktail menu to kick this experience off on the right note. The theme of today's flight? Beer, of course. The first craft beer airline in the world is here, all thanks to BrewDog Brewery. (I'll cheers to that!)
BrewDog (based in Scotland) is essentially the coolest beer company of all time, in my personal opinion. Not only are they the masterminds behind DogHouse — the very first craft beer hotel in the world (which is conveniently situated right inside their brewery in Columbus, Ohio) — but they're also gearing up to satisfy beer fanatics' love for the craft up in the sky. (Oh, and did I mention that BrewDog offers PAID PUPPY LEAVE as one of their employee perks? Sign me up!)
BrewDog Airlines will take your love for the brew to new heights. (Literally.)
Fasten your seat belts. BrewDog Airlines is debuting a flight from London Stansted to Columbus, Ohio that revolves around their beer. According to BrewDog's website, this one-of-a-kind flight experience will take place in a bespoke BrewDog Boeing 767. Up in the air, passengers will enjoy a new beer that was specifically created to taste better when you're soaring up high at 30,000 feet. Talk about #exclusive.
BrewDog-inspired food, canned Lone Wolf cocktails, and BrewDog Network inflight entertainment will be served up. In addition, passengers will receive a care package that includes a BrewDog eye mask and cozy BrewDog blanket. It's time to settle in, kick back, and get hoppy for the flight of a lifetime.
The beer experience continues when passengers touch down in Ohio.
After passengers land, they'll experience two more days of hoppy fun with BrewDog. A tour of the DogHouse is on the itinerary, which features in-room beer taps (No joke.), hop-infused shampoos and soaps that were made exclusively for the hotel, and shower beer fridges. (Four of the 32 rooms in the hotel also accommodate furry friends!) Touring BrewDog Columbus, hotspot bars, and more are included in the trip as well.
BrewDog Airline's very first flight will take place on Feb. 21, 2019. And even though this flight is currently only offered to company shareholders — aka, "Equity Punks" — to see the Columbus brewery in a truly unique fashion, Thrillist reports that BrewDog is apparently gifting trips to some lucky winners as well (who will each be able to bring a guest). Thrillist suggests keeping your eyes peeled on BrewDog's social feeds for additional info on this unreal opportunity. In the meantime, consider joining the BrewDog community, and round up your girl crew for a weekender trip to the DogHouse.