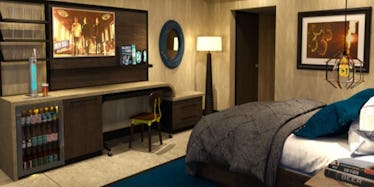 Glorious Hotel Has Beer Taps In Each Room, So Plan Your Bachelorette Party ASAP
BrewDog
If you're planning a bachelor or bachelorette party — well, any kind of celebration, to be honest — put your ideas on hold for a couple of years.
Scottish brewery BrewDog is planning to build a magical beer hotel called DogHouse, and it looks like it'll be the ultimate party destination.
That's right: Beer. Hotel. What's not to love?
The company — which just announced paid puppy leave for its employees — has launched a massive crowdfunding appeal to supporters with the hopes of raising enough money for the project in Columbus, Ohio, to get the go-ahead.
I really hope it does, for so many reasons.
The world-famous Punk IPA will be on tap in your room, and if you want more of a choice, your mini-bar will be stocked with a bunch of different craft beers.
But what's really getting me hyped up is the promise of shower beer fridges in the bathrooms.
Now, this means a lot to me because I'm aggressively passionate about boozing in the shower. Combine the heat of the water with your ice-cold beer and that's a straight-up recipe for success, I'm telling you.
There is literally no need to leave your hotel room until you're forcibly kicked out, but if you do, you can enjoy a tour of BrewDog's brewery in Columbus, which is virtually next door to the proposed building site.
There's also going to be specialist beery spa treatments, where shampoo, soap and shower gel are made using craft beer, which seems like a bit of a waste to me, but it's all part of the exbeerience.
In the least surprising news of all time, people seem to really like the idea.
So far, the company has crowdfunded $125,000 and counting.
It helps there are certain incentives for donating specific amounts, such as a free night's stay for two people for $150, instead of the normal price of about $250.
Here's the killer: You've got to be patient.
BrewDog is planning to have it open by late 2018... but at least that gives you plenty of time to plan the perfect party.
Citations: This Boozy Hotel Has A Beer Tap In Every Room (Cosmopolitan)